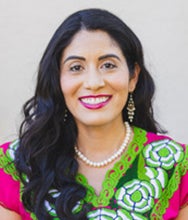 Evita Limon-Rocha, MD, MPH has been named the new chair of the UC Riverside School of Medicine's Admissions Committee.
Limon-Rocha, a community-based faculty member and UCR alumna, has volunteered on the committee for the past two years. She works as a bilingual child, adolescent, and adult psychiatrist at Kaiser Permanente Riverside.
"The Inland Southern California region is home for me. This is where I grew up, where I went to college, and where I practice," she said. "I truly believe in the UCR School of Medicine's mission and am proud to be a part of it."
Limon-Rocha said that the committee, which is made up entirely of volunteers, has a tremendous challenge determining the best, most mission-fit students out of the thousands that apply each year.
"It's a multi-step, holistic process to review the applications," she said. "Each of the committee volunteers understands the charge of the medical school."
After the first round of reviews, a pool of applicants are invited to participate in a process called Multiple Mini Interviews (MMI). The prospective students meet with several volunteers over the course of a few hours, answering pre-selected questions. The results of the MMI are then returned to the committee, who discuss every student who goes through the process. Those who best fit the medical school's mission are offered a spot.
In the 2023 admissions cycle, the school received 6077 applications and conducted 291 student interviews. One hundred and forty three of those students were offered a spot, with 86 accepting. The acceptance rate of the pool was 1.4%
"Every single opinion on the committee matters," Limon-Rocha said.
Limon-Rocha was a member of the UCLA PRIME Program and part of the UCR/UCLA Thomas Haider Program in Biomedical Sciences. She graduated from UCR in 2007 with a BS in biology and a minor in Spanish and started her medical education in Riverside. She then moved to the UCLA David Geffen School of Medicine where she completed her MD in 2013.
Along the way, Limon-Rocha earned a masters in public health with a concentration in health policy and management from UCLA's Fielding School of Public Health.
She completed a residency in psychiatry at UC Irvine in 2017, followed by a fellowship in child and adolescent psychiatry at the University of Texas Health Science Center in San Antonio before joining Kaiser.