UC Riverside Vice Chancellor for Health Sciences and the Mark and Pam Rubin Dean of the School of Medicine Deborah Deas, MD, MPH, can now add a new title to her signature: doctor of humane letters or LHD.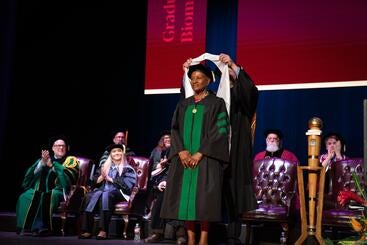 Deas was surprised with an honorary doctorate from Western University of Health Sciences on Wednesday, May 17, during the commencement ceremonies for the College of Health Sciences and Graduate College of Biomedical Sciences, where she delivered the keynote address.
Deas was introduced by Gail Evans Grayson, EdD, the acting dean of the College of Health Sciences at Western. The degree was conveyed by University President Robin Farias Eisner, MD, PhD, MBA.
"It is an honor to stand before you today to pay tribute to one of the most influential trailblazers in the field of medicine," Grayson said. "Throughout (her) illustrious career, this individual has dedicated themselves to advancing medical research, pushing the boundaries of scientific inquiry, and making groundbreaking contributions to the field of medicine and public health."
"(She) has trained and inspired countless future generations of medical professionals to follow in her footsteps. But perhaps what sets (her) apart as a trailblazer in medicine and public health is her unwavering commitment to using her knowledge and expertise to benefit humanity," Grayson added.
In Deas' remarks to the students receiving degrees in biomedical sciences, health sciences, medical sciences, physician assistant studies, and physical therapy, she emphasized the importance of the many varied roles that make up our expansive healthcare field.
"I know that physicians often receive a large share of recognition and attention from people outside of healthcare. I also know that the success of our healthcare infrastructure is heavily dependent on the many individuals working across the multiple disciplines in the field," Deas said. "Medicine is a team sport and without the collaboration of many healthcare professionals, we can't accomplish what is most optimal for the patients and their families. You are important to the delivery of healthcare and the research and science of medicine and other healthcare professions."
"With the principles of humanism serving as your core foundation, each of you have accepted the call to pursue excellence in all that you do and realize Western University's vision to transform the face of health," she added.
Media Contacts