For fourth-year medical students, there are few moments more anticipated than Match Day. Held annually on the third Friday in March, Match Day is the day where medical students at schools across North America learn where they will go for their graduate medical education, also known as their residency.
Most noteworthy is the fact that the students all open their envelopes at exactly the same moment: 9 a.m. in the west and 12 noon in the east.
As we celebrate the 10th anniversary of the UCR School of Medicine, we wanted to take a look back at the six previous Match Days, and look forward to the 2023 event.
---
2017
Stats:

Total students who matched: 40
Match rate: 100%
Match in California: 82.5%
Match in So Cal: 62.5%
Match in Primary and Shortage areas: 97.5%
There was no question - the inaugural UCR School of Medicine Match Day was going to be a special day, both for the students opening their envelopes but also for the staff, faculty, administrators, and community members who had worked so hard to make the school a reality.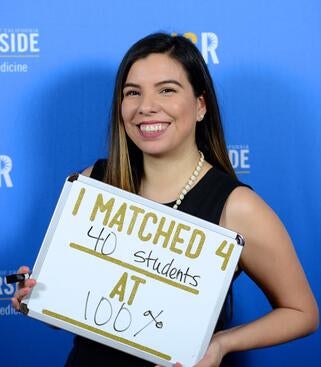 Coordination of the event fell to Polet Milian, the residency coordinator at the School of Medicine from 2016 to 2018, and it quickly became apparent that there were high expectations.
"After meeting with the leadership team, we decided that we wanted to make this a special event and chose the Mission Inn's Grand Parisian Ballroom," Milian recalled. "We wanted to ensure that the event, setting, location, music, and food all represented this special, exciting day."
Milian recalled that the days leading up to the event were "all hands on deck" to ensure that everything went well. This included developing the letters that revealed the match location, a giant five-foot poster of the United States where students could pin their match location, and a variety of collateral pieces such as a poster board Instagram frame that could be used in front of the step-and-repeat photo backdrop.
"Since this was our first Match Day, it would set the precedent for the Match Days to come," Milian said.
After months of planning, the big day finally arrived and family and friends made their way into the ballroom. A nervous energy pulsated through the room as the medical students waited to learn where they would continue their medical education and the staff worked to keep the event running smoothly.
Finally, a clock on the projection screen counted down the final 10 seconds and the students opened their envelopes amid hugs, tears, and cheers. The 40 students of the inaugural class had a 100% match rate.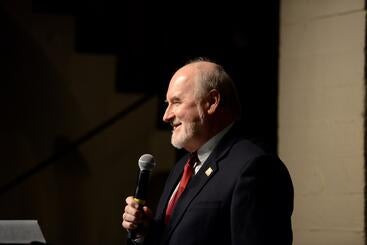 "Our Inaugural Match Day was one of the most exciting days of my career at UCR – only to be surpassed by our first Graduation Day," recalled then Senior Associate Dean for Student Affairs Neal Schiller, PhD. "We all watched as the students cracked open their envelopes surrounded by their family – and shared in their joy, and sometimes disappointments, with the results."
"I think all of us were truly anxious to watch each of our students come up to the stage and pin their match locations on the map – and confirmed for everyone that our goal to train physicians for our region was displayed pictorially by the majority of pins dotting Southern California," he added. "This was a day that was literally decades in the making."
"It was such a joy-filled day!" said Peggy Earley, the event planner specialist for Strategic Initiatives from 2012 to 2017 who helped with the event. "The anxious med students and parents were so excited, and the visual countdown really added to the anticipation. Seeing students tearing envelopes simultaneously and reading their residency locations was wonderful."
---
2018
Stats:

Total students who matched: 49
Match rate: 100%
Match in California: 81.6%
Match in So Cal: 75.5%
Match in Primary and Shortage areas: 91.8%
Match Day 2018 was held on March 16 in a new venue, the Riverside Convention Center. While not quite as opulent as the Mission Inn, it had the benefit of more space for friends and family to celebrate the 49 students' life-changing moment.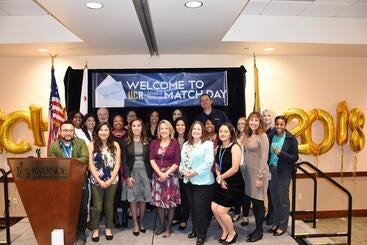 Schiller thanked the students and their families on the behalf of the student affairs, clinicians and educational team. "It has been a pleasure and a privilege to be part of your educational path. You have been fabulous students, inspiring other students behind you, and you will lead a tremendous path forward," he said.
The event marked the final Match Day for Schiller, who retired after spending nearly four decades at UC Riverside. He joined the school as an assistant professor in the Division of Biomedical Sciences in 1979 and worked tirelessly to provide students with an opportunity to pursue a career in medicine. He retired as senior associate dean for Student Affairs after spending a year as interim dean of the School of Medicine.
It was also the final Match Day for Milian--at least as a coordinator. She left UCR and is now finishing work on a Ph.D. in clinical psychiatry at Texas A&M University. On February 17, 2023 she got to participate in her own Match Day where she learned she had matched at the Harvard School of Medicine Hospital - Cambridge Health Alliance, where she will receive her final training as a bilingual psychologist. She hopes to return to California and practice in an academic medical center, perhaps even at UC Riverside.
---
2019
Stats:

Total students who matched: 38
Match rate: 97%
Match in California: 86.8%
Match in So Cal: 63.2%
Match in Primary and Shortage areas: 92.1%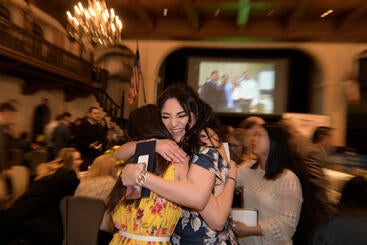 In 2019 the event returned to the Mission Inn, and 38 students opened their envelopes in the Grand Parisian Ballroom. It was the first Match Day for new Senior Associate Dean Emma Simmons, MD, MPH, who admitted to having some nerves about addressing the crowd.
"I just told myself that it is truly about the students and it is their day to shine and to celebrate themselves," she recalled. "It is a fun day to see the students get what they have been planning for for so long."
"The unpredictability of the match makes it all the more nerve-wrecking for students who have envisioned themselves staying in California and serving their communities as residents in training and then as practicing physicians," recalled former Residency Development Specialist Alejandra Torres, MEd, who is now the administrative director of the PRIME-LA program at the David Geffen School of Medicine at UCLA. "Learning to listen to students, validate their feelings and extend support in anticipation of Match Day has been the most rewarding experience. Most importantly, it's great to see families come together during Match Day because you get to see many first-gen students and their families experience the shared results of their collective efforts."
---
2020
Stats:

Total students who matched: 67
Match rate: 97%
Match in California: 74.6%
Match in So Cal: 59.7%
Match in Primary and Shortage areas: 77.6%
Match Day 2020 was to be held on campus at the Highlander Union Building on March 20 with as many as 400 in-person guests expected to attend. But as the day grew closer, the growing threat from the COVID-19 pandemic seemed destined to disrupt those plans.
As the pandemic grew, the large-scale event was scrubbed and scaled down to a small, in-person event for students and staff only. It wouldn't be the celebration of years past, but it seemed to be the best option in a rapidly changing environment. 
But these best-laid plans completely fell apart on March 13 when the Office of Riverside County Public Health announced the closure of all schools, including colleges and universities, resulting in the total cancellation of the in-person event. But while there would be no in-person Match Day, the tradition had to go on. Members of the Student Affairs and Strategic Initiatives teams came together to create a fully online experience that would mimic the in-person event as much as possible, in just over 72 hours.
The first step was to identify and secure a platform where the 49 students could share their opening experience with their friends and family. A Zoom webinar proved to be the ideal solution, and for many students and their families it was the first time they would use the now-ubiquitous platform.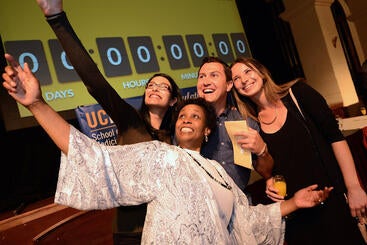 "My concern was that the students would not get to really have the excitement and feel of the in-person celebration," Simmons said. I thought that we would not be able to have the experience of seeing multiple shouts of joy and happy crying all over the place. Thankfully, that did not happen."
The next challenge was how to recreate the tradition of opening the envelope containing the student's match. Instead of a physical envelope, the students received an email the night before with a password-protected PDF. When the clock struck 9 a.m., the Zoom screen displayed the common password for each PDF and the students were able to open and read the email surrounded by their friends and families. Finally, students were able to share their match location by placing a pin on a Google map that was shared on screen.
"The positive was that students were in their own spaces and able to share this experience with their families in their own unique ways," Simmons said. "It was nice to see the families running around and celebrating informally but in a coordinated way overall. I actually really enjoyed the online experience."
---
2021
Stats:

Total students who matched: 57
Match rate: 97%
Match in California: 86%
Match in So Cal: 78%
Match in Primary and Shortage areas: 81%
Match Day 2021 followed the same format as the 2020 event, once again being held completely online on March 19. While there had been some discussions of trying to hold an in-person celebration, it proved not to be feasible. A year of practice on Zoom had helped with the flow of the event, and the 57 students were all smiles throughout the event.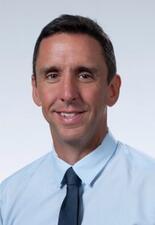 "Match Day in 2021 was definitely an example of resilience, overcoming obstacles, and creativity," recalled then-Senior Associate Dean for Medical Education Brigham Willis, now the founding dean of the medical school at the University of Texas, Tyler. "But it also showed us things we didn't even realize were possible. Obviously it was disappointing not being able to be together in a group, but the way the team put together such a seamless and meaningful event online was inspiring. And aspects of the event were even better than a group, in-person event. The ability to have the students with their friends and families for the match reveal was really novel, and added a lot."
"I remember the beauty of the emotions of the students being able to be shared intimately with their families in their homes, but also sharing online. I remember students and families saying how much that meant to them," he added.
 
---
2022
Stats:

Total students who matched:68.5
Match rate: 98%
Match in California: 87%
Match in So Cal: 80%
Match in Primary and Shortage areas: 79%
As the calendar turned to 2022 and the pandemic finally began showing signs of waning, everyone in the School of Medicine was determined to return to an in-person event. Two years after it was initially considered, the Highlander Union Building would be the site where the students would open their envelopes.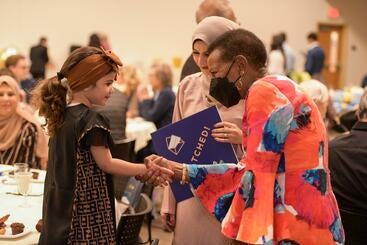 In order to accommodate students who were exposed to COVID-19 or who had family members who could not attend an in-person event, Match Day was held as a hybrid event. While the majority of students were physically present, about a quarter of the students participated remotely, their faces displayed on the two big screens on either side of the room.
"Returning in person last year was interesting," Simmons said of the event. "We were still in the middle of the pandemic and had to limit the number of guests both because of site capacity and the current COVID restrictions. Most students were excited to return to see their peers, but some were still afraid to congregate in a big setting. We did our best to plan for spacing and to keep the students and their guests safe."
---
2023
This year's Match Day will be held on March 17. For the first time, the event will be held at the Doubletree by Hilton Hotel in Ontario. As always, admission is by invitation only, but it will be streamed live on the School of Medicine YouTube page.
Simmons said she is excited for the return to a fully in-person event.
"I absolutely love the countdown," she said. "The last 10 seconds before the students rip open the envelopes is such a great time and the excitement and anticipation in the room is off the scale. The students sharing their results with each other and finding out where their classmates are going is also exhilarating. There is just so much energy in the room that it is hard not to smile and feel great."
Media Contacts