The UC Riverside School of Medicine works to give back to the local area by improving medical care and access, but the staff, faculty, and students also directly support the community during each holiday season with donation drives.
2022 featured several SOM holiday drives, including the All Inclusive Drive put on by UCR SOM Office of Student Affairs.
 
This is the second year that Student Affairs has held the drive, which was organized by Shannon Henderson, an executive assistant, and Humberto Santiago, an event planner specialist. They partnered with the Casa Blanca Home of Neighborly Service (CBHNS), a local organization that serves the community.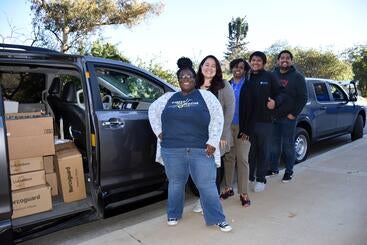 "Our goal for this year's drive was to provide specific resources that would truly benefit the unique needs in the neighborhood of Casa Blanca," said Henderson. "We wanted to supply much-needed hygiene items and non-perishables to help alleviate food insecurities. The goal was to also bring awareness to the needs of the community and shine a light on organizations that are doing the work to fill the gap."
 
The initiative involved donation boxes located throughout the school, which accepted items including canned foods, hygiene products, clothing, furniture, and backpacks.
 
In 2021, Henderson estimated that the drive was able to positively impact the lives of approximately 150 families. While they don't yet have statistics for this year's effort, the CBHNS served 235 families over the first three weeks of December in areas ranging from Riverside to San Bernardino and Hemet.
"We don't just serve Riverside County. If someone is in need, we try to help as much and the best we can," said Miriam Martha, a secretary at the CBHNS. "We've been blessed to have so many people like you guys at UCR help us out to help these families, and we thank you for that."
 
"Events like the SOM Student Affairs Donation drive help supply high need items that food pantries need and provide a hands-on approach to serving the underrepresented and underserved population in Inland Southern California," said Henderson. "It is important for SOM to hold community drives to demonstrate that not only are we are committed to supporting our students, but also the community we are a part of."
 
While this donation drive has ended, Henderson said, "We encourage you to identify other ways to give back to the community through donating or volunteer opportunities."
Other holiday initiatives at the School of Medicine included the Biomedical Sciences Departmental Graduate Student Association Holiday Donation Drive and the Center for Healthy Communities (CHC) Homeless Outreach. The Holiday Donation Drive donated 20 Amazon $25 gift cards, over 20 gifts, and dozens of non-perishable food items to support youth at the César E. Chávez Community Center - Youth Opportunity Center in Riverside.