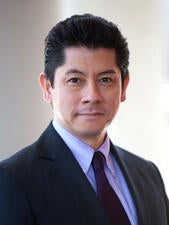 Pablo Joo, M.D. has been named the new senior associate dean for medical education at the UC Riverside School of Medicine following a national search. The appointment was effective on Nov. 7, 2022.
Joo joined the UCR SOM as associate dean for clinical medical education and professor in the Department of Family Medicine in February 2021, having previously served in several education leadership roles at Albert Einstein College of Medicine.  In addition, he has served as interim senior associate dean for medical education since February 2022.
"In both of these roles, he has demonstrated exceptional leadership in our LCME preparations, in improving relationships with affiliates and re-organizing clerkships and in many other areas critical to our education mission," said Vice Chancellor for Health Sciences and Mark and Pam Rubin Dean Deborah Deas, M.D., M.P.H. "Pablo has dedicated much of his career to medical education and to serving the underserved.  I am certain that his strong alignment with our mission combined with his vision to advance medical education at the SOM will allow us to continue to strive for excellence."
Deas expressed her gratitude to Professor of Biomedical Sciences Monica Carson, who chaired the search committee, and to "all of the faculty, staff and students who participated and provided feedback on this search."
 
Media Contacts