The UCR School of Medicine has received a $30,000 grant from the American Medical Association (AMA) to develop a curriculum in the health sciences designed to encourage ongoing research and scholarship among current medical students from underrepresented communities throughout their careers.
The project, titled "Starting Upstream: Integrating Research and Scholarship Skills with Health Systems Science Perspectives on Health Disparities to Develop Physician-Scientists through a Longitudinal UME Course," will build students' abilities to conduct research on health systems science issues that relate to health disparities encountered by patients in underserved communities, such as those in the Inland Southern California region.
The grant is from the AMA's Accelerating Change in Medical Education Innovative Grant Program, which has awarded $1.5 million since 2018 to provide financial support to hasten the transformation of medical education and better position learners to succeed in our rapidly evolving health care system.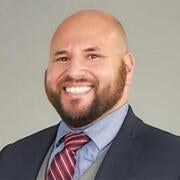 "Research has shown that many medical students don't get a formal education in research and scholarship during their medical education program, and that those who don't get mentorship and training do not continue to do research after they complete their residency," said Daniel Novak, Ph.D., director of scholarly activities at the UCR School of Medicine. "Since many of our students come from underserved communities, it means that these communities are less likely to have research conducted to address the inequities in our health systems."
Novak cited that despite two decades of work to mitigate the effects of systemic racism in medicine, there has been almost no change in the health outcomes of Black, Indigenous, Latino, and low-income White populations, all of whom have suffered from historical disadvantages.
"We have to ensure that the next generation of physician-scientists includes members of these underrepresented communities to develop the creative, evidence based solutions that will overcome structural racism and other barriers," he said.
More than 30% of the School of Medicine's students are from underrepresented minority communities, making it an ideal place to craft team-based, longitudinal research and scholarship training programs.
"Since these students come from the communities that most experience health disparities because of systemic inequities in our health system, their communities are less likely to benefit from the research skills and cultural competency that these students could use to close gaps in outcomes if only someone had set them up for research earlier on in their careers," Novak said.
The project will bring together medical education faculty to develop the curriculum, assignment and assessment tools, and modules that connect research methods with health system science topics. Novak, the primary investigator, will be joined by UCR SOM colleagues Pablo Joo, M.D., David Lo, M.D., Ph.D., Elizabeth Morrison-Banks, M.D., Adwoa Osei, M.D., Moazzum Bajwa, M.D. and Remus Popa, M.D.