Sixty-eight members of the UC Riverside School of Medicine's Class of 2022 received their medical degrees on Friday, June 3, 2022 at the UCR Student Recreation Center.
Approximately 500 family, friends and other supporters attended the ceremony, which was the first in-person Commencement and Hippocratic Oath Ceremony since 2019. Dr. Michael Drake, the 21st president of the University of California, a practicing ophthalmologist, and a member of the School of Medicine faculty, provided the keynote address.
Photos from the event can be found here. A video recording can be found at the bottom of this page or on our YouTube page.
Vice Chancellor for Health Sciences and the Mark and Pam Rubin Dean of the School of Medicine Deborah Deas, M.D., M.P.H.,, welcomed the students and their guests and reflected on how the COVID-19 pandemic had impacted the students' medical education. She reminisced about attending their White Coat Ceremony held in August of 2017.
"In my remarks, I previewed your journey through medical school and I'm sure I may have mentioned that your third and fourth years would be more challenging. I assured you that we would provide you with real-world clinical experiences to test your skills and training. Well, I certainly couldn't have predicted just how challenging your last two years would become," she said. "In spite of the adversity and uncertainty brought on by the COVID-19 pandemic, you persevered, and responded when your communities needed you the most. Reaching this point is truly a testament to your dedication and persistence. It is a testament to the support and encouragement of your family and close friends, as well as the faculty who taught you and the staff who provided support."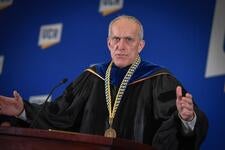 Deas announced that 39% of the class were remaining in Southern California to conduct their residencies, and that 77% were entering primary care and specialties of family medicine, internal medicine, pediatrics, obstetrics and gynecology, psychiatry, and general surgery. 
Chancellor Kim Wilcox provided the official welcome from the university and Provost and Executive Vice Chancellor Elizabeth Watkins thanked everyone in attendance for their contributions, saying "medical school is a collaborative effort, and I thank you for all that you have done for these scholars during their years of training."
"On a personal note, this commencement ceremony celebrating all of you who have earned degrees in Medicine is particularly special for me, because one of my daughters is a physician," she added. "I know how hard medical school is, how hard residency can be, how hard doctors work, how essential their work is, and what a difference they make. I thank you for choosing this career path, and I applaud your decision to devote yourselves to this worthy endeavor."
The student address was made by Sana Hadyah, M.D., who grew up in nearby Bloomington before coming to UCR to earn a bachelor's degree in neuroscience. She earned a Mission Scholarship at the School of Medicine and will be going to Riverside Community Hospital for her residency in emergency medicine.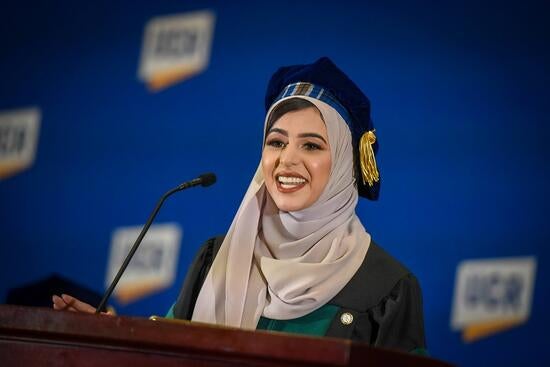 "I see athletes, artists, chefs, and musicians who will go on to become medical school deans, program directors, professors, researchers, a group who will continue to make the impossible possible wherever you may end up," she said. "The years ahead will likely be some of the most challenging years of our medical lives. Please never lose sight of how far you have come, and I cannot wait to see how far we'll go together."
Drake's keynote addressed the dedication and effort necessary to complete medical school and the students' commitment to a life of service.
"The endurance, focus, and clarity of purpose required to complete this phase of your training, particularly during this horrific pandemic, deserves special mention," he said. "Throughout it all you had to come to your rotations learning to care and comfort the afflicted and their families all the while protecting yourselves. You saw the value of compassion at times when we all are at our most vulnerable, and you saw the value of hope and perseverance when facing a daunting challenge."
As Drake spoke about prevailing against impossible odds, he recalled an interview of World War II fighter pilot Robert Williams, a member of the Army Air Corps 99th Air Squadron, better known to history as the Tuskegee Airmen, and the father of one of Drake's close friends.  When asked by the interviewer about the most frightening time of his military career, Williams described a mission where his squadron was tasked with protecting bombers over Northern Italy in rapidly declining weather conditions. Williams said he was convinced he would die that day, and as he told the story some 50 years later, tears were running down his face.
"His quote was that 'You do what you're trained to do,' and now I see parallels in his story to the training which you are now equipped with as doctors," said Drake. "You have what it takes to push past your greatest fears and to meet the challenges ahead, no matter how unknown, no matter what may come."
The students were led in the Hippocratic Oath by Interim Senior Associate Dean for Medical Education Pablo Joo, M.D., promising to embrace compassion, empathy, ethics and honest and to uphold the finest traditions within the practice of medicine.
The ceremony concluded with eleven medical students reciting the reflection "May we leave here to cure when possible; to care always" in a variety of languages, including Mandarin, Korean, Spanish, Punjabi, and for the first time, American Sign Language.
---