A new program launching at the UC Riverside School of Medicine is aimed to produce physicians better trained in addressing the health needs of the African, Black and Caribbean (ABC) populations in Inland Southern California.
Beginning with the incoming class of 2026, six selected students will be admitted to the Program in Medical Education (PRIME) through a secondary application process. The program has been developed in partnership with the UC Irvine School of Medicine Leadership Education to Advance Diversity - African, Black, and Caribbean (LEAD-ABC) PRIME program and is one of several systemwide PRIME programs that are hosted at each of the UC medical schools.
"Our vision is that we will build a community of students from both campuses who will interact closely with each other while also pursuing their educational programs at their respective campus," said Emma Simmons, M.D, M.P.H., senior associate dean for student affairs. "This program really speaks to our mission - focused on increasing diversity and recognizing the need for the inclusion of more students from the African diaspora to ensure a healthier community in Inland Southern California."
"We are proud that the PRIME program is coming to UCR SOM," said Interim Senior Associate Dean for Clinical Medical Education Pablo Joo, M.D. "This vital program provides mentorship, sponsorship, coaching and other support for these future physician leaders underrepresented in medicine. They will learn critical skills in working with ABC communities and advocating for better health outcomes with the communities' priorities front and center."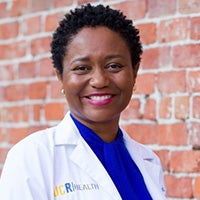 The first faculty director of the program will be Adwoa Osei, M.D.
"Being a Black woman and an immigrant in the field of medicine, it has been very lonely and isolating as I have found my way, navigated and carved my own path with the help of amazing mentors and advocates" she said. "So being able to be part of this program, creating this space for students who may be like me, or taking care of people like me, is very personal and meaningful to me."
Osei explained that the ABC population has unique needs and strengths that are often overlooked in healthcare.
"The whole point of this program is to educate and train future physicians who really understand the ABC community and to provide students who identify as ABC with the support, skills and belonging needed to accomplish this," Osei said, adding that participation is not limited to individuals who consider themselves to be members of the ABC community. "They will become adept at maximizing opportunities for equitable health for ABC communities by providing culturally informed care, leadership, and advocacy".
The program will begin with a two-week immersion program prior to the traditional August start of medical school.  Students will then enroll in designated emphasis courses in Community Health or Health Profession Leadership. During their medical education, they will be paired with clinicians who are ABC themselves or who work in ABC communities.
A second two-week immersion program will kick off the second year, followed by additional clinical rotations in ABC communities throughout the second and third year.
In the fourth year, students will have the option to take a "gap year" and pursue an additional advanced degree such as a master's in public health or public policy before returning for their final year of medical education.
Finally, upon graduation and completion of the program, the students will be expected to not just apply what they have learned but teach it to colleagues and students as well.
"We want these students going on to become mentors and future leaders who will advance excellent equitable care for ABC communities," Osei said.