Shortly after the founding of the UCR School of Medicine, it was time for an inventory audit—but the newly hired staff member in charge of that process realized she didn't know who was assigned to do it.
"She was in panic mode, and she reached out to me because my name came up," recalled Ariel DeGuzman, now the anatomy lab manager at the School of Medicine and pictured above at right. "I was like, oh, yeah, the inventory's all up to date and it's fine."
This instance is one of many that exemplify DeGuzman's roles at UCR, which have been as varied as they have been helpful.
DeGuzman first came to UCR in 2001 when the professor he was working with on cancer research, Laurie Owen-Schaub, PhD, moved her lab from Texas to Riverside. At the time, he was a recent college graduate hoping, he recalled, to save the world.
When the recession began in 2007 and his lab lost funding, he took on an administrative role with the UCR/UCLA Thomas Haider Program in Biomedical Sciences (the precursor to the School of Medicine). This began his many roles that, while not saving the world, were integral to the foundation of medical education at UCR and helped create the School of Medicine as we know it today.
All the roles, all at once
From 2007 until 2013, DeGuzman was officially the medical students' second-year coordinator at the Thomas Haider Program, but his responsibilities extended far beyond his title.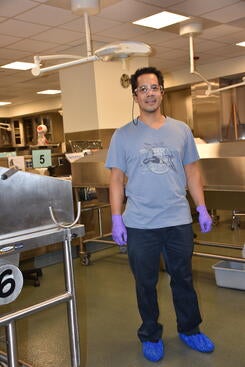 "Ariel is the proverbial 'jack of all trades'—simply a delight to work with," said Neal L. Schiller, PhD, the former dean of student affairs at the School of Medicine. "The Haider Program and the new SOM relied on him often and with ever changing and increasing responsibilities. I know I personally looked forward to working with him on any project. He was the best!"
As the only qualified lab technician working with the program (based on his research days), DeGuzman ran all the wet and dry labs and taught students skills like drawing blood and performing EKGs.
At the time, the program lacked its own IT staff, relying on the main campus department instead. This role, too, fell to DeGuzman. "In addition to second-year coordinator, and running all the labs, I was also the only IT person," he recalled. "I don't have a degree, but I know how to program and I know hardware." He worked on everything from determining minimum specifications for the program's computers to clearing viruses and even taking apart students' laptops to remove lint from jammed fans.
His work led to a position in the new IT department when the School of Medicine was founded and began growing in 2013. In his new role, DeGuzman not only supported classroom-based technology for lecturers, but programmed the first mannequins in what would ultimately become the Center for Simulated Patient Care.
DeGuzman recalled that the newly purchased mannequins had sat untouched for about a year with no clear plan for their implementation until he mentioned them to his new supervisor, Nasser Salomon.
"I pretty much established the simulation lab, I got the dust off of the mannequins, I learned all about how to create the artificial blood and the makeup for bruises, and how to program them," said DeGuzman. "That was really the challenge, because I'm not a doctor. But I was having to look up things like, what is a GI study and what do X-rays look like when you have a pulmonary embolism, and things like that." But he rose to the task, including predicting the actions students and residents would make in each situation and programming the appropriate potential responses.
"That was pretty fun and challenging," said DeGuzman, who continued helping with the simulation center for nine months until a new hire filled the role. "So I was IT, but I was still doing quite a bit."
A couple of years later, in 2015, DeGuzman's official role changed again, taking him to the Office for Assessment and Evaluation then run by Kendrick Davis, PhD. According to DeGuzman, UCLA had previously managed UCR's evaluations when the two schools collaborated on the UCR/UCLA Thomas Haider Program in Biomedical Sciences. With no current staff members that specialized in the area, the task once again fell to DeGuzman, who began to manage exams, the systems that hosted them, and the training for using the systems. The grading spreadsheets he created are still used today.
Davis recalled that DeGuzman was one of the first two people he immediately thought of for the role. He said DeGuzman was the "backbone" of the school's evaluation system and Davis' "go-to guy" even before he officially joined the office. DeGuzman's contributions included introducing then-innovative QR codes to judge poster presentations at the school's quality improvement conference, creating a digital platform for the school's annual conference after the COVID-19 pandemic started, and supplying students with N95 masks for clinical rotations.
"Ariel has been a joy to work with and an individual I could always go to and count on," said Davis. "He truly deserves to be appreciated and celebrated, as he embodies our mission. I often say that we were an office of two and a half people because of Ariel's dedication and high volume of productivity."
Finally, on top of everything else, DeGuzman was holding down one more unofficial role. "Throughout this whole time—the last 15 years—I was also helping with the anatomy lab in some capacity, even as my roles in other areas were changing," he said.
DeGuzman is humble about his many contributions over the years, but other School of Medicine staff have no hesitation in praising his work. "It has been wonderful to work with Ariel," said Pathway Programs Director Teresa Cofield, who, like DeGuzman, has worked at the medical school since its founding. She recalled DeGuzman taking time from his other responsibilities to lead tours and activities for high school students participating in the Medical Leaders of Tomorrow program. "I am very appreciative of his passion, creativity and friendly smile in his work," she said.
Focusing on the anatomy lab
In 2020, after DeGuzman had seemingly been involved with every part of the medical school, then-Senior Associate Dean for Medical Education Brigham Willis, MD directed him to focus on just one area. DeGuzman chose anatomy. In February 2023, his role became official. "Now I get to relax just a little bit and focus on one thing," said DeGuzman. "That's really nice."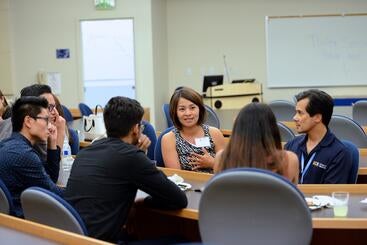 Looking back, DeGuzman said he enjoyed his years contributing to many different roles. "When you're young, you want to do it all and be super useful to people," he said. "But then it can get overwhelming too. Now that I'm only doing the one thing, it's nice to have some breathing room."
Now, he takes care of human specimens in the anatomy lab, including disinfecting the floors and safety glasses and preparing solutions to prevent fungus and mold from growing on the cadavers. He assists students when they're practicing specific skills he's mastered, and talks to those who are having trouble being around death. With the school's future in mind, he is also working on building a surgical skills program alongside Human Gross Anatomy Director Mo Entezampour, PhD.
Like SOM staff and faculty, students also praised DeGuzman's work.
Olivia Vukcevich, class of 2024, met DeGuzman in the anatomy lab during her first year of medical school. She recalled studying anatomy during the height of the COVID-19 pandemic in full protective equipment, including face masks and face shields. Despite that, Vukcevich said, DeGuzman somehow recognized each student when they returned the following year.
"As a student, I couldn't ask for a better anatomy experience, and that's largely because of Ariel," Vukcevich said. "It's fun to realize that he's been there to see us grow from struggling to identify nerves to soon graduating as physicians."
DeGuzman stressed the importance of anatomy training. "When people think of a medical doctor, you assume that they know your body. And I think that's perfectly natural," he said. "So our students need to take anatomy, and they need to study a human cadaver." He acknowledged virtual training options, but said the models tend to be too perfect. "Having 12 cadavers to look at, you've got 12 different learning opportunities," he said. "We want our future physicians to know not just textbook anatomy, but also all the possible imperfections and pathologies."
Throughout his many roles, he said the students helped keep him at UCR. "When I first came to this school, I was just happy to have a job," he recalled. "But once I embraced the culture, I fell in love with the students and the faculty and the school itself, and the mission."
DeGuzman enjoys contributing to the local region through his work, helping fulfill the School of Medicine's mission to increase access to healthcare in Southern California even as his work has helped the school thrive throughout its first decade. "It's really about educating other people to give back to the community," he said. "These days I'm helping our staff build up our school, and helping our students get a quality education so that they can better help our community. So I'm making my contribution in that more indirect way."