A record number of attendees celebrated the 10th Anniversary Gala and Education Building II Grand Opening at the UC Riverside School of Medicine on Saturday, October 21, 2023.
This year's gala was particularly special as it was held for the first time in the medical school's new building on campus. It commemorated the strides the School of Medicine has taken over the past decade toward achieving its mission to train a diverse physician workforce and increase access to healthcare in Inland Southern California.
View photos from the 2023 gala here.
View the 2023 Mission Award video here.
"Looking back over the past 10 years, it is crystal clear that this mission is our superpower," said Vice Chancellor for Health Sciences and the Mark and Pam Rubin Dean of the School of Medicine Deborah Deas, MD to an audience of 325 community members, donors, faculty, staff, and students. "It is the secret sauce that continues to bring us together to reach goals that seemed unimaginable when we first opened our doors in 2013."
She shared some of the School of Medicine's achievements over the past decade, from its 2023 ranking as 5th most diverse medical school in US News & World Report to the opening of the Education Building II to provide state-of-the-art educational facilities and the ability to increase student enrollment.
Deas also noted that of the 380 MDs and 215 residents that have completed their training at the School of Medicine, over 40% have remained to practice in the region. Helping more SOM graduates stay to serve the local area is, in fact, a key purpose of the annual gala.
 
Like the five galas before it, this year's event focused on raising funds to support the Mission Award Scholarship Fund. The fund covers the cost of either two or four years of medical school for scholarship recipients in exchange for their commitment to practice medicine in Inland Southern California after their residency training.
Scholarship recipient Jasmine Gwizdala, class of 2027, spoke to the assembled guests about her experience growing up in Ontario as part of an immigrant family that escaped war in Afghanistan. "Witnessing the socioeconomic barriers my family faced in accessing healthcare motivated me to become a physician committed to providing equitable patient-centered care to contribute to the community I was raised in," she said, adding that each Mission Award scholarship is an investment in the community's future. "By supporting me, UCR is not only investing in one student but in the countless lives that I hope to touch as a future physician."
A short video (view it here) additionally featured two alumni who recently returned to practice in the region after receiving the Mission Award: Karen Clarey, MD and Jonathan Pham, MD.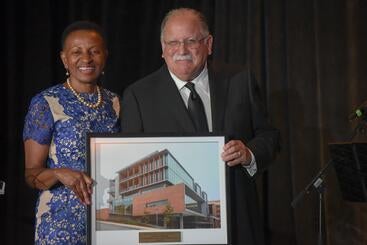 "It was truly inspiring to witness the overwhelming support of our partners at the 10th Anniversary Gala and Education Building II Grand Opening," said Edna Yohannes, executive director of development at the School of Medicine. "This year's remarkable achievement of $150,000 in proceeds, with hopes to reach $175k by year-end, brings us closer to awarding a four-year Mission scholarship. The unwavering dedication of our School of Medicine staff and faculty propels us towards even greater heights."
UCR Provost and Executive Vice Chancellor Elizabeth Watkins, PhD, Executive Associate Dean for Student Affairs and the Salma Haider Endowed Chair for the Thomas Haider Program Daniel Teraguchi, EdD, and Senior Associate Dean for Medical Education Pablo Joo, MD also spoke at the event. Other attendees included current and former elected officials Senator Richard Roth and Jose Medina, members of the UCR Foundation Board of Trustees, members of the School of Medicine Board of Advisors and School of Medicine Community Advisory Board, representatives from Inland Empire Health Plan and HCA Healthcare, and numerous donors and event sponsors.
A raffle for a vacation in Maui, which was won by Yolette Doucet, raised additional funds to support the scholarship.