Hearing several of her patients make plans for their commencement ceremony as part of their UC Riverside undergraduate class this year, Toshia Yamaguchi, MD, a psychiatrist at UCR Health, felt a strong sense of pride. "I'm so incredibly impressed by them, and by how much they persisted," she recalled.
Yamaguchi's commitment to supporting college students' mental health while helping diverse students succeed brought her back to UCR for her first job as an attending physician. Previously a resident and fellow in the school's psychiatry graduate medical education program, she discovered her love of teaching even as the individualized attention from the small program helped her develop her leadership abilities.
Supporting college students' mental health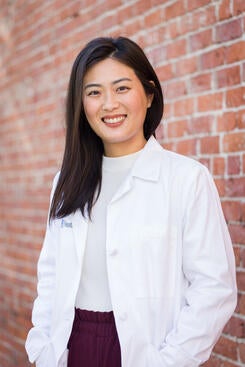 When Yamaguchi completed her fellowship and began looking for employment, she said UCR made her an offer she couldn't refuse: contributing to the program that trained her and seeing young adult and pediatric patients at UCR Health, all while supporting a population she cares deeply about—college students—by serving as UCR health director of Student Mental Health and working at UCR's Student Health Center.
Her work, particularly with mental health among students, is a necessity. A 2022 study published in the Journal of Affective Disorders found that across the nation in 2020-2021, over 60% of college students were eligible to be diagnosed with at least one mental health issue. This rate was 50% higher than in 2013, and all student racial and ethnic groups were affected.
"I am really passionate about college students' mental health," said Yamaguchi. "A lot of mental health conditions first emerge during this period, like bipolar disorder and schizophrenia. So it's a very important time to be vigilant and on top of your diagnostic game, because if you are not considering all the different pathologies that could be at play or about to emerge, then you could be missing and misdiagnosing quite a lot and delaying best care for patients."
Getting students to graduation
Besides ensuring that college students receive proper diagnoses, mental health support, and care, Yamaguchi is committed to helping students complete their degrees. "I'm really passionate about helping students who are struggling with their mental health, helping them to graduate," she explained. "Trying to keep them in school is really important to me."
Yamaguchi said that supporting diverse students is particularly meaningful for her. This makes UCR a perfect fit for her, with the SOM ranking No. 5 for diversity in U.S. News & World Report's 2023-2024 Best Grad School rankings.
In fact, the School of Medicine's mission to train a diverse workforce—and UCR's commitment to walking the walk—were essential to Yamaguchi's decision to remain at the university. "By having a diverse workforce, we can hopefully begin to address some health inequities," she said. "And the way it's doing that is by admitting a diverse medical student body."
Still, she said even more needs to be done to help diverse students. "Diversifying the workforce doesn't just stop at accepting a diverse student body; you have to actually get them to graduation," she pointed out.
Yamaguchi has ideas for closing the gap. Besides working at the health center, she is pursuing research focused on ways to better support diverse students in school. Her work comes full circle as her interactions with students help inform and focus her research.
Improving student training
Yamaguchi also supports students in other ways. She regularly instructs medical students through lectures and rotations and is further improving the residency program, which is still relatively new, as the psychiatry site director at UCR Health.
Part of this effort involves developing an LGBTQ+ curriculum for psychiatry residents after recognizing the need for deeper coverage in her own training. "As doctors, we're all going to be working with a number of LGBTQ+ patients and it may not be obvious to us at the time," she said, emphasizing the need to be aware of best practices around working with the LGBTQ+ patient population.
"LGBTQ+ patients often may experience stress around seeing their doctors due to stigma that they may have experienced before in a healthcare setting, and they may even avoid seeing their doctor because of this," she added. "They need and deserve health care as much as anyone else does. So it's really important to build that foundation of partnership and welcome them into health care so that patients do come back and ultimately receive care."
Yamaguchi's efforts haven't gone unnoticed. "Her contributions and leadership shaped our ability to quickly frame and implement a patient-centric culture and allow this year's residency program to run smoothly and effectively," said Danielle Bowers, the clinic administrative manager at UCR Health. "My staff and I love working with Dr. Yamaguchi."
Yamaguchi also hosts a podcast, which she started as a resident, to explore other areas of the field. "Let's Get Psyched" began as a radio station show on KUCR but is now also available online.
"When students talk to us about it, they said that they learn a lot about psychiatry, such as different aspects of psychiatry that aren't discussed in the curriculum in their medical school," Yamaguchi said. Instead of explaining how to treat depression, for instance, Yamaguchi said the show might delve into different theories behind mental health conditions. "Really, it's just for us to talk about concepts that we're interested in and to explore them with expert guests and leaders in the field," she said.
Yamaguchi wants psychiatry students to know that they can pursue their interests and make them into a career, just like she has. "Our field is so flexible in comparison to other fields in medicine, and I think a lot of students don't understand that part," she said. "If they're interested in psychiatry, they can really find a career that suits them best."