The UC Riverside School of Medicine celebrated the grand opening of the new School of Medicine Education Building II with a ribbon cutting ceremony on Tuesday, September 26, 2023. More than 300 guests attended event, which was held in conjunction with the year-long celebration of the school's tenth anniversary.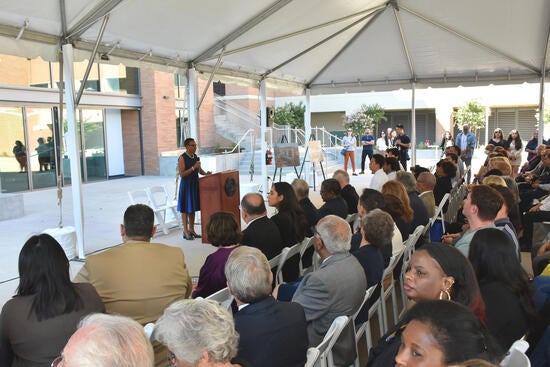 Deborah Deas, MD, MPH, the vice chancellor for health sciences and the Mark and Pam Rubin dean of the School of Medicine, welcomed the standing-room crowd to the event and acknowledged the many dignitaries in attendance, including state and local politicians, administrators from UC Riverside and UC Health, and members of the UC Regents, as well as community members, UCR students, faculty and staff.
"Over the last two years, we've watched with anticipation as the new School of Medicine Education Building II took shape," said Deas, explaining that the new space would allow the school to expand and train more physicians to serve the community.
"[But] the journey to the new building didn't just start two years ago," she continued. "The inspiration behind it—a local medical school to increase the physician workforce in the Inland Empire and to improve the health of those we serve—has been decades in the making."
"Today we celebrate a dream, years in the making, which has now become reality," echoed California State Senator Richard Roth, representing Senate District 31. Roth remarked on the historical lack of access to healthcare in Inland Southern California, with 21.6% of residents having no health insurance at all a decade ago when the School of Medicine opened.
"Health clinics in the region, including the UCR health clinics, are now providing care to thousands and thousands of patients annually, and the UCR School of Medicine has graduated almost 400 physicians and trained over 200 residents to help address our healthcare workforce shortage," he said, noting that over 90% of residents now have health insurance. "What a change 10 years brings."
Other speakers included Talmadge E. King, Jr., MD, interim executive vice president of UC Health, John A. Pérez, chair of the Health Services Committee of the UC Board of Regents, retired Assemblymember Jose Medina (61st) and Assemblymember Sabrina Cervantes (58th). 
Following the ceremony, Deas invited guests to explore the 95,478 square-foot-building's classrooms and student study areas via guided tours.
The building, which cost approximately $100M, is one of the most energy-efficient on campus and meets LEED Platinum certification standards. It includes four classrooms filled with state-of-the-art technology, teaching, learning, and studying spaces for medical education, as well as academic and administrative spaces.
Andre-Philippe Sam, the medical student representative for the class of 2026, shared his excitement about the new building. "The old building was nice and it did a lot to bring students together, but this will take it to the next level for sure," he said, adding that he looks forward to the couches and the outdoor study spaces. "There will be great opportunities for students to work together."
"This building will allow us to be together as a community, and that's huge," said Kim A. Wilcox, PhD, ninth chancellor of UC Riverside. "I'm so proud and happy for the dean and the college and I look forward to many more years," he continued. "Twenty-five years from now I'll be back, and we'll open up another building."
Media Contacts