The School of Medicine hosted the 2023 Celebration of Women in Medicine and Science on September 12 with Shirley Malcom, PhD, the senior advisor and director of SEA Change at the American Association for the Advancement of Science (AAAS), delivering the keynote address. It was the first event held in the new School of Medicine Education II Building, showcasing the modern, forward-looking space while in turn bringing new excitement to the annual gathering and highlighting the importance of promoting women's contributions to the field into the future.
Rosemary Tyrrell, EdD, director of the Office of Faculty Development and a health sciences assistant clinical professor, co-organizes the event each year with Linda Reimann, chief of staff and assistant dean of strategic initiatives.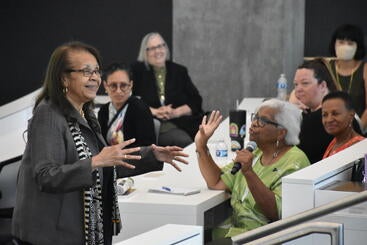 Tyrrell noted that women have traditionally been underrepresented in medicine and science. "While that representation is becoming more balanced, there is still a 'leaky pipeline' for women to advance to leadership positions within the field," she said. "This event celebrates the achievement of women in these fields and also gives us an opportunity to explore and discuss issues related to some challenges that women still face."
In Malcom's keynote address, she reflected on her long career in science and medicine and the hurdles she overcame as a Black woman in the field. She focused on her perseverance and encouraged younger women to follow in her footsteps.
For Erica Heinrich, PhD, an assistant professor of biomedical sciences, the keynote was an event highlight. "Dr. Malcom shared with us her unique journey and how she has become a catalyst for change," said Heinrich. "She also led a very engaging discussion with the audience that left us with hope for the future."
Heinrich also participated on a panel with Elizabeth Morrison Banks, MD, associate dean of medical education quality, Denise Martinez, MD, associate dean of diversity, equity and inclusion, and Daniel Novak, PhD, director of scholarly activities. Lisa Fortuna, MD, chair of the Department of Psychiatry and Neuroscience, facilitated the conversation.
They covered topics including maintaining both work-life balance and access to opportunities for women, the importance of mentorship for women at all levels of their career, and the need for sponsorships for women to achieve higher level positions and national recognition, and engaged attendees in discussion.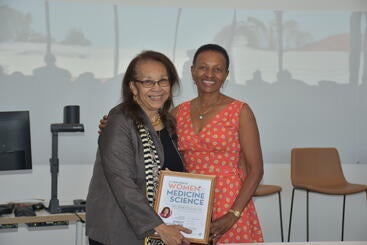 Henrich said she hoped all attendees, and especially trainees, left the event feeling inspired about the future, seeing a path forward both in their own careers and how to spearhead change for future generations.
Tyrrell echoed the sentiment, saying she wanted people to come out of the event with a hopeful attitude. "It does no good to continue discussing the 'challenges' if it results in under-represented individuals feeling defeated," she said. "What I always hope is that people will learn something valuable and walk away feeling inspired to make the change they want to see."