Growing up as a lifeguard in Long Beach, Timothy J. Collins, EdD, MHA, FACHE, EMT, always wondered what happened to people after he rescued them from the water. This curiosity led to his lifelong medical career, including serving as an emergency medical technician and other roles that focused on improving health in the community.
 
"All these events during my life really instilled in me that it's not about me or the success that I might have. It's about what I can do for others," said Collins, who joined UCR Health in May as the chief executive officer. "Serving others is my priority, and when I found out about this opportunity, I saw it as a way in which I could continue a life calling to give back."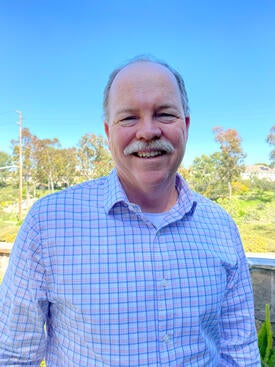 His variety of experiences in healthcare over the past 30-plus years, including running hospitals, working as a healthcare consultant for international companies,  serving as volunteer with the San Diego Sheriff's Department Search and Rescue team, and leading an earthquake response team in Nepal, uniquely positioned him to lead UCR Health.
 
Collins' personal dedication to the area also committed him to the job. "I grew up in Southern California and my family is here, and I feel an obligation to deal with problems in the area," he said, referring to the lack of primary care physicians and specialty health services that make the Inland Empire one of the most medically underserved regions in California. "This is one of those problems, and I view it more as an opportunity to really bring people together to solve the issue. That's what called me to this position, to this role."
 
Currently, UCR Health sees over 42,000 patient visits each year and has so far increased residents' access to specialties including pediatrics, neurology, and minimally invasive gynecology. Collins aims to continue improving health and healthcare access in the area by leading UCR Health to add services and capacity, particularly in underserved urban and rural areas, while continuing to focus on clinical quality. He also plans to increase collaboration with local clinics, hospitals, and community-based organizations to strengthen the overall care available to the community.
 
"UC and UCR Health are an indispensable community asset that is embedded as part of the community's tapestry," Collins said. "We will elevate the overall care that's provided and the access in this marketplace through partnerships and through organizations that have stepped forward that have expertise that we don't. We'll build bridges and work with others to improve access to high quality health care services, creating an overarching structure that the community relies upon."
Partnering with the School of Medicine
Collins is also focused on working with the UCR SOM to improve health in the community, particularly through training and retaining physicians who are dedicated to the region. "I view everything that we're doing to be in partnership with the School of Medicine," he said. "Individuals might go someplace else to receive their residency and fellowships, but we want them to come back."
 
"Sometimes people ask me, what's UCR Health, and what's the School of Medicine?" Collins continued. "And I always say that UCR Health is the clinical enterprise to support the operations and efforts of the School of Medicine. It's the place where the physicians practice. It's the place where we educate the medical school students. It's the place where they get the practical experience working with patients."
 
He referenced the K-12 Pathway Programs, SOM scholarships, mentoring, and other programs all designed to support students in the community in pursuing a medical career with the eventual goal of them contributing to the medically underserved in the area.
"That partnership, where we educate and then bring those individuals back to this marketplace, and they will work for UC Riverside Health? That's the cool thing," Collins said. "That's the partnership that's going to change the game."
 
"It's refreshing to work with a leader like Tim who deeply understands how training local physicians will serve the Inland Empire's healthcare needs for generations to come," said Rajesh Gulati, MD, associate dean of Graduate Medical Education, designated institutional official for the School of Medicine, and interim chair of Internal Medicine. "There is nothing more rewarding than giving back to the community you grow up in, and UCR Health provides the training ground for best-in-class physicians to be a part of the change."
 
"I would be remiss in not saying that we owe a huge debt of gratitude for all the people that had the vision of what this could be," Collins added, pointing to the legislators, community leaders, donors, city council, and many others who have supported the UCR SOM and UCR Health. "UCR Health is a bigger purpose and there's a lot of people on the team," he said. "I'm excited about what it will be and what it can be."
Looking ahead
After just a few months in his role so far, Collins said he has been impressed with the UCR Health staff and physicians' passion for the cause. "UC Riverside Health has incredible people and capability and we're unleashing it. And the amazing part of that is that when people know where the organization is going, everybody's rowing in the same direction, the strokes get stronger, we move faster, and we continue to follow the heading that we want," he said. "It's a great foundation to build upon."
"The key to understanding where we are and how we're progressing lies in how our team has rallied around a commitment to clinical analytics. Under Tim's leadership, UCR Health has made inroads in bringing increased transparency and shared ownership over quality outcomes, resource utilization, and practice transformation," said Eileen Kwan, director of marketing at UCR Health. "Our brand promise is truly taking shape in a meaningful and measurable way, which translates to improved care for patients and long-term value in the marketplace."
Looking forward, Collins said, he hopes people will feel excitement about UCR Health's presence and its willingness to invest to help those in need of health services without focusing on monetary gain.
 
"We're a UC and we have a mission to provide care as a statewide leader for the entire population of California," he said. "I'm hopeful that people will be excited that we will have a pathway moving forward and excited that we're building a greater presence and bringing more services to this marketplace."
 
And while UCR Health is centered on the bigger picture of improving healthcare in the Inland Empire, Collins said providing quality care for each patient is their foremost goal.
 
"The other thing I want people to know is, we also have the humility to understand that the patients need us and it's an obligation that when people put their trust in us for their care, we hold that trust sacred," he said. "We do our best every single minute of every single day for our patients, and focus on service, quality, access, communication, follow up and follow through, and doing things that benefit our society, our population, and our community."