Each year, the UC Riverside School of Medicine participates in Match Day, a celebration in which medical students across the nation simultaneously find out where they will be spending the next portion of their medical training.
This year's event, which took place on Friday, March 17, was even more special because it took place amid the school's 10-year anniversary celebration.
 
"This is my favorite day, and I bet it's going to be your favorite day too," said Emma Simmons, MD, the Salma Haider Endowed Chair and the senior associate dean of Student Affairs, to the crowd of students, family, faculty, and staff gathered at the DoubleTree By Hilton Hotel Ontario Airport.
 
Students exchanged nervous hugs as they walked to the front of the room to retrieve the envelopes containing their residency program information.
 
With four minutes to go until 9 am, when medical students around the country learn where they matched, students posed for photos with their sealed envelopes marked with a 10-year anniversary commemorative sticker.
 
"It's a relief that we matched, but—where? We're all really excited for today," said Patrick Samones, one of the 2023 class representatives. Samones, whose first-choice match location was at UCLA, will graduate in June with a specialty in family medicine. "I love family medicine just because I love the breadth of everything. You see adults, you see kids, you see pregnant women, you see geriatrics," he said. "So all these things combined is what really drew me to family medicine, and the impact you can have, because I can serve many underserved populations instead of just one."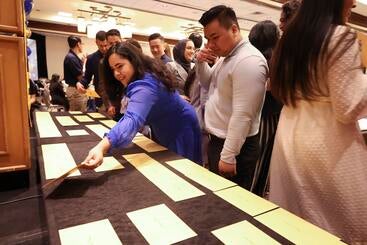 "Regardless of what happens, I know after I'm done training, I'm going to stay in the Inland Empire, be with my family and really just continue the mission of the school because that's why I started this journey," he added.
 
At 8:58 am, Simmons instructed students to return to their seats as a clock on large screens at the front of the room ticked down the minutes. With 10 seconds to go, Simmons led students and their guests in a countdown.
 
Finally reaching the appointed time, students used UCR letter openers to slit their envelopes, revealing where they would spend the next years of their medical training. Cheers filled the room, building as students continued sharing their match locations with fellow classmates and loved ones.
 
Students were invited to announce their specialty and residency program onstage, then place a pin with their name and portrait on a large map indicating where they matched.
 
Samones went first, sporting a broad smile as he announced that he matched at his first-choice program: UCLA.
 
"I'm so excited to start a new future there, learn a lot, and then come back to the Inland Empire and bring what I learned here," he said.
 
Of the 65 Class of 2023 students who went through the match process, 63 matched. The match rate of 97% is comparable to those of past years.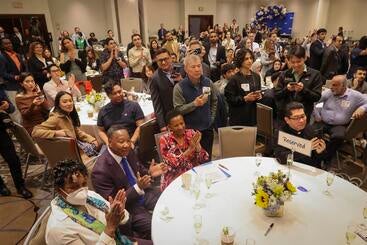 "It's amazing," said Deborah Deas, MD, the vice chancellor for Health Sciences and the Mark and Pam Rubin Dean of the School of Medicine. "When it's that high, I feel that we've done our job in training competent and compassionate future physicians."
 
Not only did nearly every student match, 42% of this year's class will remain in the Inland Empire for their residency programs while an additional 31% will stay in other areas of Southern California.
 
"I want to take a moment to say that I am so very proud of you. And I'm also proud of this class's perseverance and resilience that each of you demonstrated during this pandemic," Deas told the class. "Your experiences have made you more determined, more resilient, and more compassionate. These attributes will carry you into the future and into your residency programs, along with the values of the School of Medicine."
 
With 73% of the class staying in the Southern California area and 85% matching to primary care and shortage areas, the School of Medicine is fulfilling its mission to create more physicians who will help improve care for underserved populations in the region.
 
Secilia Salem also matched at UCLA in family medicine. "I love procedures and being with my patients and growing up with them and learning about their families and having a full spectrum of care, so it's perfect," she said. In the future, she added, "I hope to have a small practice in a community somewhere in Southern California."
 
Abigail Burr and Alvin Chan approached the stage together and announced themselves as one of this year's couples matches, sharing that they will be heading to UCSF for their residencies. The pair worked in the same research building at UCR as undergraduates but only spoke to each other for the first time during their first week of medical school. Soon they were rock climbing together and, two months ago, they got engaged.
 
Chan will be pursuing a specialty in anesthesia while Burr goes into emergency medicine. Around planning their wedding, they both look forward to supporting their future patients. "Ultimately, I'll be continuing with the UCR mission, really wanting to work with underserved populations," said Burr. "Emergency medicine is a great place. It's a chance to work with vulnerable populations and make a really big difference. So, I'm hoping to continue that as I go through my career."
---