Few individuals have lived the history--or exemplify the mission--of the UC Riverside School of Medicine more than Teresa Cofield, director of the school's Pathway Programs.
Cofield, one of the longest tenured staff members at the SOM, came to UCR as an undergraduate in the late 1980s and has been with the school ever since. For Cofield, who grew up in a low-income military household with family in the rural south, education was very important. "My parents were very adamant that I had to go to college," she recalled. A first-generation college student studying math and economics, she faced a similar path as many current UCR students.
As a student and recent graduate, Cofield struggled to define her career. She took her first steps toward her future role when she left her fast food job for a position in a campus library. From there, she became a peer mentor and learned to help other students effectively navigate college. After graduating, she became the founding coordinator for the California Alliance for Minority Participation (CAMP), a UCR program that helps underrepresented students in STEM—like Cofield—complete undergraduate degrees and pursue higher levels of education.
Before her campus roles, Cofield had believed that the only way to work in education was through teaching. "I knew I liked working in education, but I had always been told the only option was to be a school teacher," she said. "And here are these universities everywhere throughout the state, but nobody really talks to you about how to get a job in those institutions."
Her experiences at UCR showed her that she could work with students without becoming a professor. "I was able to really figure that out by working with that CAMP program," she said. "I was able to do those things that I valued, which were education, mentorship, and advising. And a lot of the things I was able to add into the curriculum were things that I didn't get when I was a college student, particularly on the STEM side, like how to talk to your parents about workload or approach faculty."
Increasing diversity through the Pathway Programs
In 2006, Cofield decided to take a risk, leaving her secure job to join the new, grant-funded Pathway Programs (then called the Pipeline Programs). While she had enjoyed making an impact on STEM students through the CAMP program, she was attracted to contributing to the biomedical sciences program's new focus on increasing diversity. "We weren't seeing a lot of results in terms of the students of color or low-income students getting the support that they needed," she recalled. "So I was just drawn to it, like I have to be a part of this."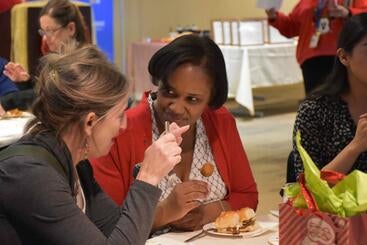 Cofield was hired as the assistant director of the Medical Scholars Program (one of the Pathway Programs) by then-Director and Associate Dean of the Thomas Haider Program in Biomedical Sciences Neal Schiller, PhD. "Under her guidance MSP started to flourish and grow each year," recalled Schiller. "I can say with complete confidence that MSP would never have survived without her leadership."
While the program's initial four-year grant was not renewed, the program was soon supported through other donations and grants. Now, 17 years later, Cofield is still here. "It's been 100% worth it," she said.
"I think it is very important to recognize Teresa's incredible gifts and insight in managing our Pipeline (now called Pathway) Programs. She emphasized the importance of listening to our students, to supporting them during their difficult times, to provide them leadership experiences," said Schiller. "Indeed--it was partly due to the success of these programs that the new UCR SOM was able to confidently write its mission statement and get accredited by the LCME," he added. "I strongly believe that the success of our Pathway Programs is intimately tied to the tremendous efforts of Teresa Cofield."
In her current role as Pathway Programs director, which she has held since 2012, Cofield manages day-to-day operations, including hiring staff and acting as a liaison to different units within the School of Medicine. She is also hands-on in working with and advising the post-baccalaureate students who are applying to the school's master's program, as well as students in Medical Leaders of Tomorrow, a program that she created to help local high school students explore health careers.
Cofield's personal background gives her a unique ability to connect with students and their families. "I have grown up, so to speak, at UCR, and as I've matured, something that I would say is very prominent in my own mind over the last 10-plus years is the connection to the student's family," she said. "Sometimes when I look into the audience that I'm addressing, I'm like, 'Ah, they actually remind me of my parents,'" she continued, explaining that her own family pushed her to take too many units when she started college. Now, she said that she acts as a bridge. "I understand how they might misunderstand college expectations, and the importance of talking with them and informing them about it."
Cofield said she loves seeing her efforts come full circle, like when students she met at orientation become physicians who help current students. "There are moments when the students in Pathway Programs, whether they're our college students or maybe our high school students, interface with a health professional, and it's an individual that I worked with when that person was in their own college journey," she said. "To see them now actually giving back at our School of Medicine, or in other parts of the community, I think is extraordinary."
In fact, her long-term goal is to see even more former students help train future generations of physicians. "My hope one day is that there'll be a School of Medicine listserv announcement saying so-and-so has been hired as the associate dean or senior associate dean, and I'll be like, 'Oh my goodness, I remember this person from family orientation with new students, and here they are doing so much for the community.'"
Supporting the SOM's growth and mission
Cofield has enjoyed watching both UCR and the SOM grow over the years. Beyond her history on campus, she has a personal connection to the SOM's mission to improve medical care in the community.
Coming from a military family, she said she has many hometowns, but considers Victorville, CA to be the hometown of her youth. "I've personally experienced the challenges in the community that we face, like excessively long wait times to see a doctor," she said. She added that her medical care improved when she moved to Riverside, a city she has now lived in for 18 years. "I not only love UCR, I actually love the city of Riverside," she said.
With her long tenure at UCR, she has seen the medical school grow from its inception to now celebrating its 10-year anniversary. In fact, her old office was in the area now being used for the new School of Medicine Education II building. Recalling her move out of that office, Cofield said with a laugh, "I can remember somebody saying, 'Well, can't we just go to dinner?' And I'm like, 'You don't understand, I've got to pack! I'm standing in the way of progress. We've got to vacate!'" She added, "Now, it's just a really powerful view when I walk into the office to see this five-story building going up, because I think that that's more the reflection of the work of everyone at the school together."
She appreciates the school's progress over the years to serve students and people in the area. "I've seen our mission and vision shaped by being responsive to the community. And those aren't always easy dialogues," Cofield said. "People don't always realize how tough the work is, but it's worth it."
"There were some tough moments with the grants where we just didn't have any, and the School of Medicine was trying to support our programs in between. And just having that confidence, and some faith to stick it through is so important," she said. While progress felt slow, she remembered one significant grant that came in and resulted in students receiving scholarships covering 100% of their tuition just a few months later. During these times, she thought of a fitting proverb often shared by Deborah Deas, MD, MPH, the Vice Chancellor for Health Sciences and the Mark and Pam Rubin Dean of the School of Medicine. "The dean always says, 'if you want to go fast, go alone, and if you want to go far, go together,'" Cofield said.
Cofield enjoys looking back and seeing how far the School of Medicine has come, particularly around its commitment to diversity and equity, an area of interest to her since her undergraduate years at the school. "To know how much we actually accomplished and the challenges that we faced in accomplishing that, I think it's for me, it's a very powerful story about resilience of the institution and the individuals," she said. "In some ways, it's been a dream come true to work at UCR School of Medicine, to see what we've actually accomplished through such a long period of time."
Despite her decades at UCR, Cofield plans to continue working with students for years to come. "My own mother is still working, so I do see myself working well into my 60s," she said. "I envision myself being here 15 or 20 more years."