On any given day, Peg Winn and Cristian Palacios could be acting as patients in simulated medical scenarios or teaching specific topics and techniques to small groups of medical students. They fill similar educational roles at the UC Riverside School of Medicine, but their opposite backgrounds offer unique contributions to students' learning.
Palacios is just getting started in a career serving patients. Winn, on the other hand, is sharing her knowledge from a long career in health care as a medical assistant.
Inspiring new medical careers
After helping train medical students at UCR and other local schools since 2014, Palacios is looking forward to applying the lessons he's learned to help serve patients in a new way: as a nurse.
For Palacios, small yet simple gestures are essential to the patient experience. He's observed many of these gestures firsthand over his years as a standardized patient (SP) and clinical instructor.
"Small, kind, empathetic gestures to your patient, that's a premium," Palacios explained, whether that's offering the patient a glass of water or the doctor making sure to sit down to keep the patient from feeling rushed. "When I was acting as a patient, it made me feel just well taken care of, respected, and important."
While in recent years he has focused more on teaching in his clinical instructor role than serving as an SP, he remembers these lessons well. "I'm definitely going to emphasize those small gestures during my care," he said.
He was initially unsure of his career path, but the nursing shortage during the pandemic alongside his experiences in medical education gave Palacios his new goal. "I love this idea of applying my knowledge to caring for others," he said. "I think nursing is just a perfect opportunity to do that."
After starting nursing school in fall 2022 through a joint RN-BSN program at Riverside City College and California State University, Fullerton, he plans to continue doing some teaching at UCR during his two years in the program.
Despite Palacios not being a UCR medical student himself, using his experiences to help improve healthcare in the community furthers the School of Medicine's mission. "Hopefully I will provide a good quality of care to my patients in the future," he said.
One thing is for sure: He'll take his years of knowledge from being an SP and working with medical students to help him serve patients. "I've had the opportunity to be a patient for so many years," Palacios said. "I'm aware that every word counts, your tone, your demeanor. It goes a long way."
Some of these lessons came from Winn, his fellow SP.
"Peggy's the best," said Palacios. "I love how she always has a jar of candy with her during her teaching sessions," he added. "It's the same thing as with treating your patients: Small gestures mean a lot." Through working with Winn, he's learned everything from safety tips—never let the patient block the exit—to increasing motivation for medical students during lessons.
Learning from a career with patients
Winn's experience as a medical assistant for nearly four decades has helped Palacios and the other SPs she collaborates with while also benefiting UCR's medical students, all with the result of improving care in the area. Her unique perspective from a career spent closely with patients in a non-provider position gives medical students valuable insights, helping prepare them to work effectively with patients as well as with office staff.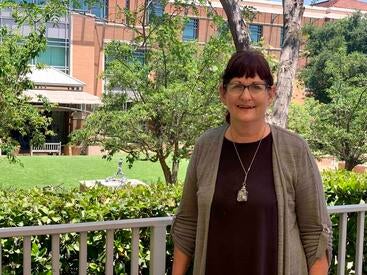 Over her years on the job, Winn would sometimes see patients leave their wheelchair in the waiting area before their appointment. As the patient walked into the examination room, their doctor may have assumed they had no limitations to their mobility. The mistaken observation could potentially affect the doctor's interactions and the care they provided.
Winn's message for doctors and doctors-to-be? Avoid making assumptions about patients, and listen when the office staff have observations to share.
Winn's many real-life examples cover a variety of patient experiences that medical students may encounter. Winn shares common patient complaints with students, such as patients not feeling heard because the doctor was focused on typing notes. Additionally, in her experience, medical assistants or other staff may sometimes learn information from a patient that the doctor should know.
"When you're dealing with your patient, listen to your staff," she often reminds students. "Sometimes they're with that patient or have picked up more of the history than you may have been able to get out of the patient because they're more comfortable talking to a female, or they're more comfortable talking to the staff."
Winn has also talked to patients who were upset, or refused further medical care, after a doctor blamed their medical issue on their weight. This is an important point for both current and future doctors, as a body of research indicates that many healthcare providers' stereotypes about people with obesity may influence their care.
"I explained to the students that you've got to look at the person's history, where they're coming from, what brought them to this place, instead of just judging them as soon as they walk in the door," she said.
Winn enjoys watching medical students build confidence. As someone who has held patients' hands during minor procedures, she uses her experience making patients comfortable to help students feel comfortable, too, especially when it comes to learning to touch their patients for examinations. "I say, 'don't apologize to me, because I chose to do this,'" she said of working with students. "I want them to feel like we're in this together. I'm not here just to get a paycheck; otherwise, I wouldn't be driving 90-mile round trips."
Whether she's helping other SPs or training medical students, her goal is to help improve patient care.
"It's exciting to me to see all of these young people who are going to be physicians soon," she said. "If they treat their patients with something that they picked up from our SP program and can take with them, I like that."