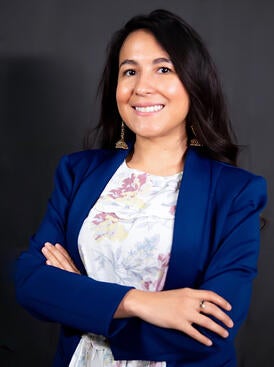 A new project led by Evelyn Vázquez, Ph.D. a faculty member in the UC Riverside School of Medicine's Department of Social Medicine, Population, and Public Health (SMPPH) to improve the mental health of graduate students has received a two-year funding award of nearly $250,000 from the Eugene Washington Patient-Centered Outcomes Research Institute (PCORI) Engagement Awards program.
Titled "Engaging the Academy to Address Underrepresented Graduate Student's Mental Health Needs," the project will use community-based participatory research (CBPR) techniques to engage students, researchers, health care providers and university administrators to discover the challenges facing graduate students, particularly those from underrepresented communities, including first-generation, non-binary, racial/ethnic minority, LGBTQ+, rural background, and low-income students.
"Through this project I hope we will remove social and institutional barriers that inhibit trust in healthcare and research," Vázquez said. "I would like to see the creation of a long-term, UC-wide infrastructure that intentionally engages underrepresented graduate students to address their unique mental health needs," adding that she would like to continue engaging participants in additional patient-centered outcome research and comparative clinical effectiveness research."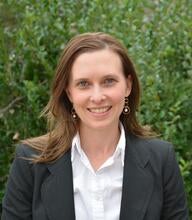 "The goal of this project is to prepare for patient-centered comparative clinical effectiveness research," said Ann Cheney, Ph.D., an associate professor of SMPPH and the community engagement project lead. "To do that, our award will build the capacity of student patients and key stakeholders including on- and off-campus healthcare providers, academic personnel and researchers to partner in future research that privileges meaningful patient outcomes and compares the effectiveness of two or more treatments or interventions."
As a first-generation Latinx college student, Vázquez said she experienced challenging mental health conditions during graduate school at UCR and witnessed other students and colleagues facing similar challenges.
"I was lucky to receive the professional support needed to overcome those conditions," she said. "Fear of rejection, due to the stigma associated with mental health illness, lack of resources, and health mistreatment are barriers to access mental health services. These are some reasons why my research agenda focuses on addressing the unmet mental health needs of underrepresented patient populations, including graduate students and low-income communities of color."
The project is a collaboration between the UCR School of Medicine and UCR Health in collaboration with Solid Ground Wellness in Recovery, a woman-owned, minority-run behavioral health outpatient clinic in Riverside.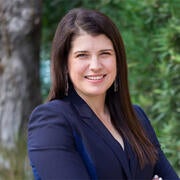 Other members of the leadership team include Cheney, who will be the community engagement project lead, Professor of Clinical Psychiatry and Neuroscience Kimberley Lakes, Ph.D. will be the mental health task force (MHT) leader, Manasi Rajadhyaksha, a Ph.D. candidate in the UCR School of Education, will serve as the graduate student project leader and as a co-lead of the MHT, and Lisa Molina the program director and co-founder of Solid Ground Wellness in Recovery will be the healthcare leader. The leadership team will build on two UC-wide networks, the UC Graduate and Professional Council (UCGPC) and Healthy Campus Network.
"CBPR is a non-traditional approach to research that shifts the paradigm from academic as expert to community as expert.  It engages all stakeholders throughout the research procedure, including establishing research questions, developing data collection tools, and analyzing and disseminating findings,"  said Rajadhyaksha, an international and first-generation college student. "The process begins with identifying a community issue, and a proposed strategy, and then addressing the issue with research that is community-based and engaged."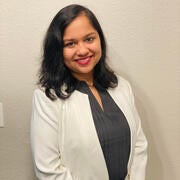 "CBPR promotes shared responsibility and accountability among all members of the research group; produces socially relevant, equitable research that incorporates the voices of community members; and promotes positive social change through community engagement and collective efforts," she added. "The project will provide a platform for underrepresented graduate students to voice their experiences and struggles with mental health and facilitate the development of patient-centered research questions for future projects."
In addition, Cheney shared "PCORI's advocates for "research done differently" and a new approach to health research that privileges the voice of patients and stakeholder input in research. CBPR, which is a non-traditional approach to research that shifts the paradigm from academic as expert to community as expert, aligns with PCORI's mission to "do research differently."
Vázquez has led two pilot projects that informed this PCORI award. The first was a photovoice project that explored social connectedness, belonging, and mental health conditions among underrepresented graduate students. The second used a cross-sectional survey to explore the structural factors in mental health disparities in a public research institution.
She recently had an article titled "Negative emotions, social isolation, and impostor syndrome in the pursuit of professional mastery in research universities" published in the International Journal for Academic Development in June, 2022.
Vázquez said the goal of the project is to begin changing how higher education approaches and manages these topics, moving the needs of these underrepresented graduate students from the background to the forefront.
"It is a challenge to change the White cis-male perspective that dominates higher education and public health, but it is possible to dismantle this oppressive perspective that harms our students and patients and prevent them to access health services," Vázquez said. "Furthermore, whenever we think about health inequity, we must recognize that health mistreatment and barriers to care are the result of historically-based structural factors, such as discrimination and racism against minority groups."
The project is part of a portfolio of projects that PCORI has funded to help develop a community of patients and other stakeholders equipped to participate as partners in comparative clinical effectiveness research (CER) and disseminate PCORI-funded study results. Through the Engagement Award Program, PCORI is creating an expansive network of individuals, communities and organizations interested in and able to participate in, share, and use patient-centered CER.
This project and the others approved for funding by the PCORI Engagement Award Program were selected through a highly competitive review process in which applications were assessed for their ability to meet PCORI's engagement goals and objectives, as well as program criteria. Visit their website to learn more about PCORI's funding to support engagement efforts.
"This project was selected for Engagement Award funding because it will build a community equipped to participate as partners in CER and develop partnerships and infrastructure to disseminate PCORI-funded research results," said Greg Martin, PCORI's acting chief engagement and dissemination officer.
PCORI is an independent, nonprofit organization authorized by Congress in 2010 to fund comparative effectiveness research that will provide patients, their caregivers, and clinicians with the evidence needed to make better-informed health and healthcare decisions. PCORI is committed to seeking input from a broad range of stakeholders to guide its work.
Media Contacts