There's currently no effective treatment for multiple sclerosis (MS), but Seema Tiwari-Woodruff, Ph.D. , the director of UCR's Biomedical Sciences Graduate Program, may be well on her way to finding one.
As MS attacks the body, it causes damage to the myelin sheath, the fatty coating around nerve fibers that keeps them healthy and able to relay commands to muscles. Repairing the protective coating, known as remyelination, has long been a goal of researchers seeking to treat this disease that affects nearly one million people in the United States. Tiwari-Woodruff holds a co-patent on remyelinating drugs that may prove to be the first effective treatment for MS.
She co-authored a 2019 study in Nature Scientific Reports showing the effectiveness of two compounds in mice. Since then, the chemist she's collaborating with at the University of Illinois at Urbana-Champaign, John Katzenellenbogen, has modified and generated better analogues of the drug. They're now waiting on funding to perform key experiments that would clear the drug for clinical trials, an extensive undertaking that has been further slowed by the pandemic.
"Developing therapies can be a lengthy and tedious process," Tiwari-Woodruff said. "We need to know all the targets and the side effects, all the potential toxicity before the drug can go into a human being." If everything goes well, she hopes that clinical trials can start in the near future. "We're very close," she said.
Helping the local community
Once the drug reaches the clinical trial stage, Tiwari-Woodruff plans to work with MS physicians to recruit local MS patients to test the new treatment. Her desire to help the local MS community was one of the factors that brought her to UCR in the first place.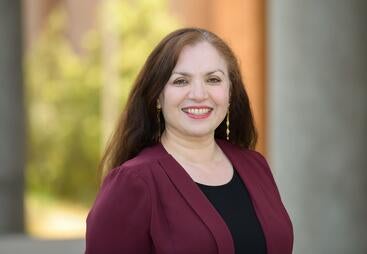 As an MS researcher years ago at UCLA, she often participated in public forums explaining the disease, new drugs, and ongoing research. Frequently, she would see patients who would drive more than an hour from San Bernardino or Riverside to attend the events.
"I was fascinated by the question of, why are these people traveling so far to listen to us?" she recalled. When driving to UCR for conferences, she also noticed the lack of medical centers in the area compared to on the coast. "It dawned on me that there were not many hospitals in the Inland Empire where MS patients could get evaluated or get treatment," she said.
In 2013, UC Riverside opened its four-year School of Medicine and was actively hiring new faculty. At the time, Tiwari-Woodruff wanted to perform research and work with colleagues who were interested in educating and helping the MS community. "When the job opened here, this was my opportunity to come out here, help establish a multiple sclerosis program with other specialists, have a research base, and listen to people on what they need in terms of accessibility to specialists and treatment centers for neurodegenerative diseases, closer to their communities," she said.
She especially values working within the Riverside community as it lets her communicate directly with patients and understand their challenges with MS. During one local talk she gave on optic neuritis, where inflammation and demyelination of the optic nerve caused by MS can result in blindness, she remembers two young women in tears at the event. They thanked Tiwari-Woodruff for studying the condition and recognizing the difficulties they faced. "It's very humbling, because it allows me to connect with the patients and families that will be directly benefited by the work I do and gives me extra motivation," she said.
In addition to conversing with patients through public forums and eventually including them in clinical trials, she said another benefit of being in Riverside is the clear stake it shows in the local community. "When my research papers come out, the document mentions that the work done is at the University of California, Riverside," she said. "I feel so proud to be able to contribute to this community."
Research like hers helps attract and retain medical and graduate students in the area as well, working to fulfill the need for more medical providers and researchers in the Inland Empire. "We highly appreciate the students who are motivated to stay, research, and practice medicine in the Inland Empire after they graduate," Tiwari-Woodruff said.
From ion channels to multiple sclerosis
Her success follows an unusual background. She began her career as a physiologist studying the structure and function of ion channels, but soon discovered that she was more interested in neurodegenerative disease systems. She ended up completing a second postdoctoral fellowship and studying the cells that make myelin.
While Tiwari-Woodruff didn't have extensive neuroscience or immunology experience when she entered her new field, she thrived. Now, in addition to being an accomplished MS researcher, she's president of the American Society for Neurochemistry.
"The first time when I went to a society meeting, I was absolutely intimidated because I didn't know anybody," she recalled. After being introduced to other participants by a scientist who had seen her give a talk at UCLA, she began to attend each year. She helped with committee work before being voted onto the council and, in 2021, elected president.
Increasing diversity in science
Although she said she prefers being out of the limelight, her position as president has allowed her to implement new initiatives. Inspired by UCR's emphasis on diversity and inclusion and her own experience joining the society, Tiwari-Woodruff has focused on increasing the group's diversity. "It's been very difficult having a lot of one type of scientist attend the meetings," she said. "People can be very uncomfortable breaking in, just like I was."
With the support of other society members, she helped create the society's Diversity and Inclusion Committee. She has also helped increase travel awards for underrepresented minorities. Under her leadership, the society is seeking more speakers of diverse backgrounds as well. "We really go out of our way to make ourselves inclusive, rather than just saying it," she said. "UCR has really helped me that way."
They've seen success. At this year's gathering, Tiwari-Woodruff said, "it was one of the most diverse populations of scientists at the society meeting."
Even as she helps increase diversity in science, she is working through the funding and drug approval process for her potential MS treatment and continuing her other research on the pathology and progression of MS in humans and mouse models to better understand the disease. "Every researcher who's working on multiple sclerosis is trying their level best to find a cure for this dreadful disease," she said. "I really think that in the coming years, we're going to see incredible progress."