This piece is part of a series highlighting members of the School of Medicine's 2022 graduating class.
After growing up in Chino, CA and seeing the health disparities and lack of access to medical care in her community, Yasmin Gutierrez had a single-minded goal. "I just wanted to be a doctor," she said.
While an undergraduate at UC Irvine, Gutierrez worked as a medical scribe and used her Spanish language skills to help interpret for individuals in underserved areas. Seeing physicians serve the community strengthened her own desire to work in medicine and increase access to care.
Her focus on helping underserved communities meshed with the UC Riverside School of Medicine's mission, drawing her to the school. She said the proximity to her family along with the students' friendliness and diversity made it the perfect choice for her medical education.
When she enrolled, though, she still had a lot of questions. As the first person in her family to attend medical school, she was unsure about choosing a specialty and felt naive about the selection process.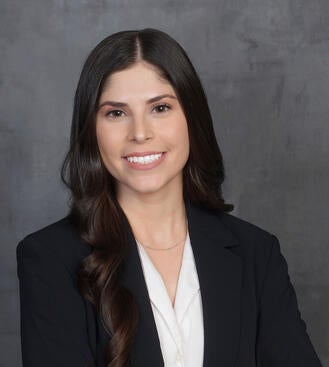 While exploring different options, Gutierrez enjoyed mentoring students through the Mini Medical School and Future Physician Leaders programs. For her, helping the next generation of doctors is an important way to address health disparities. "A big part of the solution, of course, is systemic. But it's also increasing the amount of diversity in our physician workforce," she explained. She said that seeing her mentees become pre-med and medical students was particularly rewarding. "I feel like the solution is going to take many of us," she explained. "It's not just one individual going into medicine."
Gutierrez soon developed an interest in dermatology. Following her third year of medical school, she completed a research year at LAC+USC Medical Center to help her decide whether to make it her focus.
The program not only led to several published research papers, but helped her find her niche in practicing dermatology for underserved populations. As one of the only Spanish-speaking members of the team, she was able to work closely with patients to help them manage their skin conditions as well as the conditions' broader effects on their wellbeing.
"It felt really good to be able to help patients with diseases that are so visible to the population and that really affect them, and to be able to see them get better and just have their confidence improve from the treatment," Gutierrez said. "That was the moment where I thought, okay, this is really exciting. And it's really a specialty where I can help so many people of all backgrounds, and it doesn't have to be limited to cosmetics or aesthetics."
Some of her research from the year furthered her focus on the connections between dermatology and mental health. Her publications include research on depression rates in people with blistering skin conditions called bullous dermatoses as well as a study on opioid use in dermatology. "Looking at how dermatologic diseases can affect the mental health of patients is huge," Gutierrez said. "Once you talk to these patients, you really see that you're not just treating a skin disease, but you're really treating how that's affecting the individual."
Gutierrez said some of her findings were unexpected. For the depression and dermatosis study, "seeing how even the mild form of the disease can have such an impact on our patients was surprising," she explained.
Still, the research results may improve the care she provides as a doctor. "It gives you better questions to ask when you're with patients in-clinic and uncovering those symptoms or those feelings that those patients have," she said, adding that research helps raise physicians' awareness. "You can kind of get desensitized to a lot of diseases, so I think it's really important to sometimes just bring it to light, because it reminds you of how we're not just treating diseases but we're treating patients."
Besides interpreting for patients, part of her work during the research year included recruiting Spanish-speaking people to clinical trials. "I later realized that's such a huge thing, being able to diversify clinical trials," she said. "It gives you the ability to have medications that you can feel confident in giving to patients of diverse backgrounds."
Gutierrez matched at USC and said she looks forward to continuing working with the same patient population during her residency, as well as possibly conducting more research. "I want to stay true to myself and my passions by working closely with patients that are underserved and underinsured," she said. "Being one of the few individuals that's from a Mexican American background in the field, and that speaks fluent Spanish, I think that's going to really help me reach a lot of patients in dermatology."
She added that she feels lucky to again remain close to her family, whose support helped her thrive in medical school. "This is also them graduating in a sense, because they've been part of the whole process. They've seen me study for all the board examinations, and sometimes if I had to miss a family event, they were very understanding," she said. "So I think this is just a huge celebration for all of us."
After Gutierrez completes her residency, she hopes to return to her home community to provide dermatology services to underserved populations. "I would love in the future to move back to the Inland Empire and give back to the community by serving them through increasing access to dermatologic care," she said.
She also plans to continue mentoring and increasing diversity among physicians, though she emphasized that the process will be a collaborative effort. "It's something that we can help improve with time and by working together," she said. "I hope to contribute and help target those barriers throughout my career."
Photo courtesy of Yasmin Gutierrez. Photo design: Paulina Laroya