This piece is part of a series highlighting members of the School of Medicine's 2022 graduating class.
Seeing a doctor extract fluid from the lungs may not attract most people to medicine, but the thoracentesis procedure fascinated U.S. Navy veteran Maria Guerrero. "He knew where to put the needle without puncturing the liver or the diaphragm, all without imaging," Guerrero, a pre-nursing student at the time, recalled. Intrigued by the doctor's knowledge of anatomy, she decided to go to medical school. However, her route was both indirect and challenging.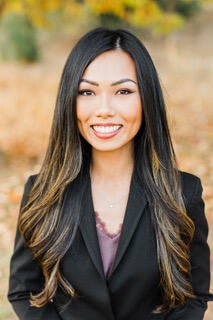 Just a few years earlier, Guerrero felt unsure about her interests and what career to pursue. When a friend signed up for the Navy after high school, she decided to do the same. Guerrero served as an information systems technician from 2010 to 2014 in Okinawa. "As a 19-year-old in Japan, that was a huge shift in my life. I think it really helped me mature," she said.
The military's focus on community service led her to volunteer in a nursing home. "I think my sole purpose there was to sing happy birthday and give elderly people cake," Guerrero recalled. Still, her role highlighted the importance of community involvement and sparked an interest in caring for the elderly, leading her to sign up for biology and chemistry courses on base.
As she considered pursuing a science degree, Guerrero gravitated toward nursing—an occupation she said was highly encouraged by her Filipino parents, who immigrated to the U.S. with Guerrero when she was 10. "I thought, maybe my parents were right this whole time. I should have just gone to nursing school," she said, laughing. She left the military and enrolled in pre-nursing courses at California Baptist University in Riverside, close to her family.
While volunteering at Kaiser Permanente Riverside Medical Center as a pre-nursing student, Guerrero saw her first thoracentesis and decided to switch to pre-med. Her additional volunteer work at free clinics opened her eyes to people's struggles, attracting her to the UC Riverside School of Medicine. "You can live in a community and not be aware of everybody else's situation. I loved how UCR focused on that," Guerrero said, adding, "I really felt like they walked the talk, like they weren't only saying that as their mission."
Helping Other Veterans
Guerrero was used to her classmates' confusion about her veteran status from her undergraduate years. ("You're too young!" was the common response.) After joining a campus group to promote veterans' presence and increase their opportunities in college, she sought to continue her work at UCR. Alongside fellow veterans and second-year School of Medicine students Jason Hasegawa and Jeremy Santiago, Guerrero started a group called Veterans Healing Veterans.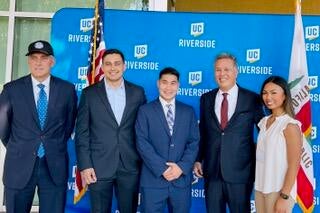 Their group, which has been assisted by UCR Veteran Services Coordinator Tamara Thacker and Scott Pegan, PhD, a UCR biomedical sciences professor and U.S. Army veteran, aims to increase veteran admissions to UCR's medical school while offering support in the form of networking and mentoring. As Riverside County had the eighth-largest veteran population of all U.S. counties in 2018, their objective is to increase the representation of veterans in the school while better reflecting the population the school serves.
"I think it would be a great honor to have more veterans come to UCR that are dedicated to serving their fellow veterans in medicine, especially with the high amount of veterans concentrated in the Inland Empire and the amount of homeless veterans," Guerrero said. "If they're passionate about seeking those opportunities, this would be the perfect place for them."
Medical school is expensive, but many veterans are eligible for G.I. Bill benefits for education. Guerrero was able to use hers and encouraged other veterans to do the same. "I don't know if I would have continued pursuing graduate studies without veterans' benefits. So that was really great; it was a really big open door," she said.
Her experiences in medical school were also affected by her lessons from the military: among them, leadership, the importance of volunteering, adaptability, and handling a difficult schedule. She said that the last, in particular, should be good preparation for her residency.
Persevering Through Loss
Another trait from the military, resilience, was essential when Guerrero experienced personal tragedy during her third year of medical school. She lost both parents and her grandmother to COVID-19 just a few months before vaccines became available. Looking back, she's particularly glad she attended UCR because of the time she was able to spend with her family. She remembers her mom stopping by with food before big exams, and while she hadn't yet chosen her specialty when they passed, she said they recognized her excitement around surgery. "If my heart was in it, then they were happy," she said.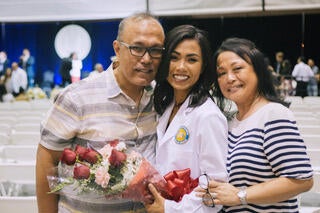 Guerrero said the UCR staff and faculty helped her after her loss. "UCR felt like family when I interviewed here, but they really are a family," she said, explaining that Mark and Pam Rubin Dean of the School of Medicine and Vice Chancellor for Health Sciences Deborah Deas and Senior Associate Dean of Student Affairs Emma Simmons called her multiple times to offer support. Kathleen Buckner, director of financial aid, also helped her find resources to cover funeral costs and other expenses. "I don't know if I would have graduated if I wasn't at UCR because of the amount of support that they really gave me at that time," Guerrero added.
Another help was her fiancé, Glenn Guardamondo. During their first year of medical school, their alphabetically similar last names caused them to be paired up for a lab. After drawing each other's blood during their first meeting, they began studying together and got to know each other's families. "He was a big support during the time I had to go through losing my family," Guerrero said. They plan to get married in June before they each start a general surgery residency at Loma Linda University Medical Center, where they matched as a couple. "I'm glad that we can both nerd out about different procedures that we saw or did that day," she said.
Connecting with Patients
From her experiences, Guerrero knows the importance of receiving care from someone with a similar background. "You gain trust more easily when you know that somebody else has gone through what you've gone through," she said. "That was the type of support that I sought when I went through the loss of my family. It was helpful that they were also in my shoes, and to know that they overcame that."
She said trust may be stronger between individuals who share a military service background, too. But Guerrero's military experiences have also helped her bond with patients beyond veterans. Working on teams with servicemembers from all over the U.S. "opened my eyes to the diversity of cultures even within one country," she said. "So it really helps me try to understand where everybody is coming from and to help my patients feel comfortable and be able to communicate what they need."
She has taken additional steps to help her understand and communicate with patients. Guerrero earned a Designated Emphasis in Medical Spanish (also known as HABLAMoS) at the School of Medicine to help her connect with patients. While she's not yet fluent, she said the program was beneficial. "I just see patients light up even when I just introduce myself in Spanish," she said. "They appreciate that I'm trying."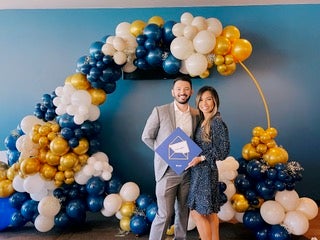 She's already experienced success connecting with patients. During her final year of medical school, Guerrero worked with a patient whose colon cancer had spread to her liver, requiring surgery. While changing the woman's dressings, Guerrero would ask about her family and what she was looking forward to once she left the hospital. "I told her, well, you'd better get discharged before my last day!" Guerrero recalled, noting that the support seemed to help motivate the patient. "I thought that was so special, just seeing how it's not just your technical skills that heal patients, but also your interactions with them," she said. "I think that is something that I want to take with me, having that personal touch with each encounter."
Guerrero is keeping her options open on whether to pursue a fellowship after her general surgery residency, but she's set on another goal: working with Veterans Affairs to serve the veteran population in Riverside. She also hopes to stay involved with her veterans group after she leaves by mentoring more veterans attending the School of Medicine.
Guerrero's parents were supportive of everything from her military to medical career. "They just knew I was going to be independent and do it anyway," she recalled, laughing. She knows they'd be proud that she's finishing medical school and getting married. "Mom and dad missed it by one year," she said. "It's kind of bittersweet now that I'm graduating."
Photos courtesy of Maria Guerrero. Photo design: Paulina Laroya