This piece is part of a series highlighting members of the School of Medicine's 2022 graduating class.
When Matt Jason Llamas was five years old, he fell off a swing and hit his head on a brick. Knocked unconscious, he was rushed to the emergency department, where he underwent surgery for a traumatic brain injury. His doctor told his parents that if he'd arrived just one or two minutes later, he wouldn't have survived.
"Ever since then, I've always felt like God kept me alive to fulfill a purpose, and I always felt confident that that purpose is medicine," Llamas said.
The experience, coupled with losing his grandfather in the Philippines because his family couldn't afford inhalers and other treatments for his chronic obstructive pulmonary disease, further motivated Llamas to work with underserved populations.
He began volunteering at the Riverside Free Clinic as an undergraduate at UC Riverside. "I wanted to help the poorest of the poor and help the homeless, especially in Riverside County, where there's so much need," he said. Once he graduated, he drove from his home in Los Angeles to volunteer at the clinic several times until he was accepted to the UC Riverside School of Medicine a few months later.
After becoming the free clinic's medical student manager, Llamas helped start an optometry clinic and worked to increase overall efficiency. When the clinic closed at the start of the COVID-19 pandemic, he dedicated himself to helping restore services, particularly in his focus of psychiatry. "I know my family's not the only one dealing with anxiety associated with COVID, and I know COVID has brought up a lot of isolation in different people," he said. "So I thought, we need to get psychiatry back into the free clinic."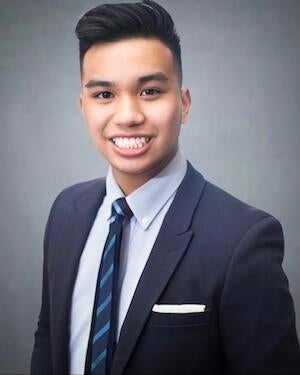 Llamas talked to the clinic's leaders and board, then began taking his laptop to the clinic to allow residents working remotely to meet with patients over Zoom. "I took care of all the logistics side here, so that way we can give patients the treatment that they deserve," he said. Once restrictions lessened and appointments resumed, Llamas applied for and won a $5,000 grant from the American Psychological Association to buy laptops and other equipment to help expand the clinic's telehealth services. That way, these services could continue after he left.
It's especially important to maintain and broaden services, he said, because some patients see the free clinic not as a safety net but as their primary choice for care. "A lot of people come to us because they really want us," he said. "I've had times where I've tried to refer patients to a federally qualified health center because they can do more than we can, but they say, 'No, we trust you.'"
Llamas has also seen the clinic's impact on people in the community. When he first met one patient, she was homeless and dealing with schizophrenia. After a couple of years of receiving care from the clinic, she is now living with family and has a job. While she no longer needs to come into the clinic, Llamas said she still likes to visit. "Every day she always says how grateful she is [for the clinic]," he said.
Because of the clinic's role in the community, Llamas thought it was important to help it continue. Referencing the new equipment obtained through the grant, he said, "I'm really happy that I was able to leave that before I move on. At the end of the day, it's for the patients." He added, "My mom always told me, leave a place better than you found it. And that's something that's always stuck with me."
 
Family has played an essential role in everything from Llamas' outlook to his choice of specialty. His older brother, a psychiatric nurse and Llamas' biggest role model, recommended the field and helped him get a mental health worker job before he started medical school.
One patient during that time helped cement Llamas' interest in psychiatry. A teenager with depression declined to talk or even look at him during her appointment. Reading her chart, Llamas realized it was her birthday and arranged for the staff to sing and give her a cupcake. "I'll never forget her face. She started crying," he recalled. Then she told him she wanted to talk. "I was the first person she opened up to in the hospital," he said. "And that was my realization: I think this is something that I can really do."
His psychiatry specialty soon provided opportunities for research, too. Though nervous, Llamas introduced himself to the School of Medicine's psychiatry chair at the time, Gerald Maguire, MD, and became his first-year research assistant. Llamas not only contributed to Maguire's research on stuttering and potential treatments, but also attended a National Stuttering Association conference in Florida.
Llamas' desire to help people, his past experiences, and his family role models led him to take on multiple teaching roles at UCR as well. Besides working as a simulation instructor, ultrasound student instructor, and admissions ambassador, he helped develop a mentorship program for the Asian Pacific American Medical Student Association. "If I didn't go into medicine, I'd be a teacher, 100%," he said, citing his uncles working as teachers in the Philippines as his inspiration. "I had to learn a lot of things on my own, and I wouldn't be here now if it wasn't for the people and mentors that helped me," he added. "I want to pay it forward."
Serving as an admissions ambassador let Llamas interact with School of Medicine applicants, an activity he particularly enjoyed. "Just sharing in their excitement of going into medical school, because not that long ago I was there too," he said. He has even seen the results of his efforts. Recently, a first-year medical student he interviewed as an applicant reintroduced himself and said Llamas' enthusiasm was the reason he was excited to come to UCR.
Llamas is glad to have left his mark at the School of Medicine but is excited to head home to Los Angeles for a psychiatry residency at UCLA. He plans to complete a fellowship centered on identifying and preventing the progression of mental illness in children and adolescents.
His focus again stems from his family's experiences, particularly with his little sister coping with depression amid the stigma around mental health in Asian American communities. "I'll be honest, it took a while for my parents to accept that she needed help," he said. "They always told us she just needs to pray more. But I told my parents, you know, even Jesus needed help carrying the cross."
Longer term, he hopes to get an MBA and open his own private practice. His brother Jonathan, who earned a doctor of nursing practice degree, now has his own practice and Llamas often calls him for advice. Along with his older sister Mariel, a pharmacist, Llamas dreams of someday starting a family clinic. 
He's keeping his options open and is also considering pursuing academic medicine with a possible return to UCR. "A lot of UCR undergrads who came to medical school want to come back and help this place. We really care about the school," he said. "I'm sad to be gone. But I don't think it's a 'goodbye,' I think it's a 'see you later.'"
Because of his early experiences, Llamas added that he never takes anything for granted. "I realize how lucky I am to be alive and how blessed I am to be in this sort of position. I want to never forget why I went to medical school in the first place."
Photo courtesy of Matt Jason Llamas. Photo design: Paulina Laroya